Extra Entry Sensor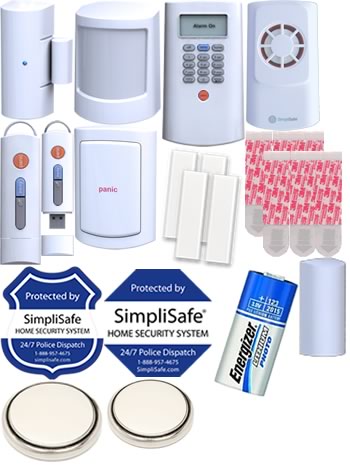 Protect additional windows and doors that may be accessible to intruders.
Extra Motion Sensor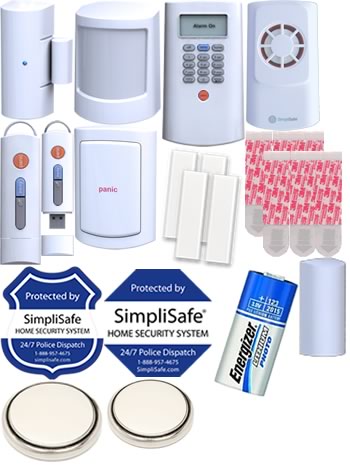 Great for rooms with lots of windows, sensors detect any motion within 30 ft. Will not detect pets under 50 pounds.
Water Sensor

Will trigger an alarm whenever it comes in contact with water, preventing costly damage from leaks and floods
Freeze Sensor

Will trigger an alarm whenever your home temperature falls below 41°F. Giving you early warning of potential bursting pipes.
Extra Keychain Remote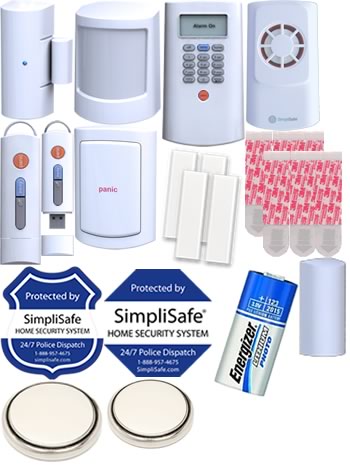 Easily turn your alarm on and off with a Keychain Remote. Its panic button also offers protection as you enter your apartment.
Extra 105db Siren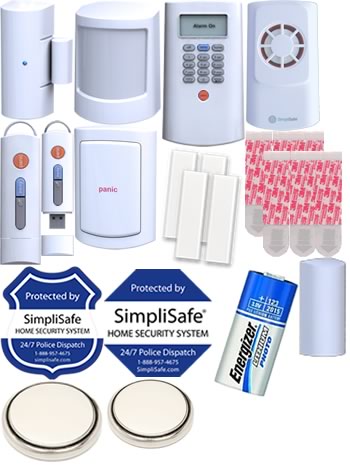 This delivers ear-blasting burglar deterrence. Completely Wireless and rated for indoor or outdoor use.
Extra Panic Button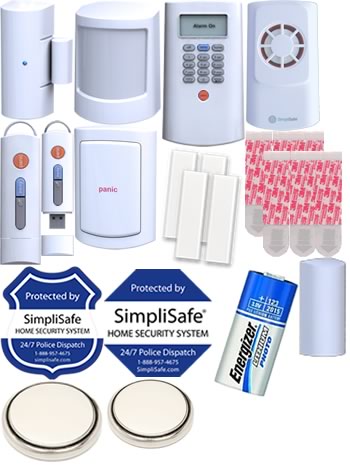 Help is always at your fingertips when you place Panic Buttons in easy-to-reach locations.
Extra SimpliSafe2 Keypad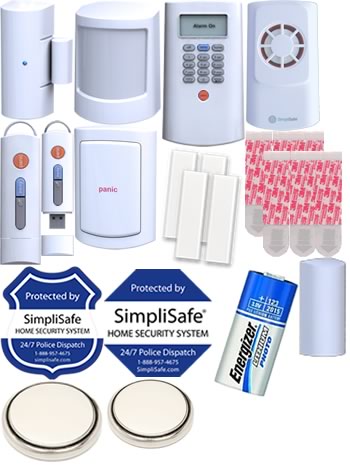 Place extra keypads at the entrances of your home that are utilized most frequently.
Smoke Detector

This monitored smoke detector will sound its own internal siren as well as trigger a full-blown security system alarm
Carbon Monoxide Sensor

Detects dangerous levels of CO in your home and triggers an alert giving you time to get out of the house.
Replacement Cap
for Keychain Remote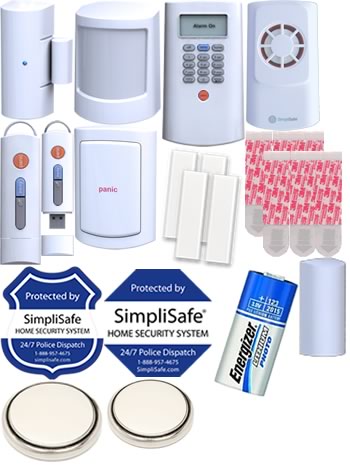 In case you've lost your Keychain Remote cap, order a replacement here.
Extra Magnet
for Entry Sensor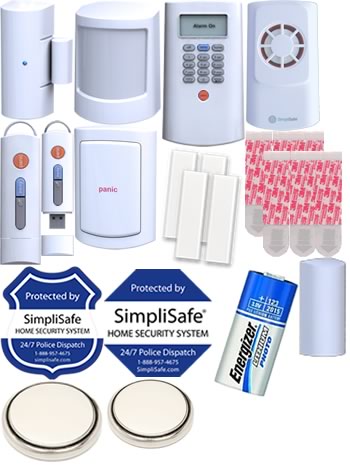 If you'd like to leave a window slightly open for fresh air, use an extra magnet to protect your window in the open position.
---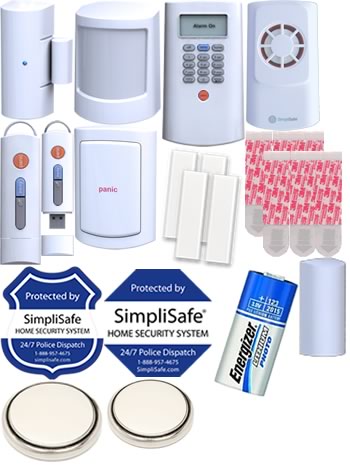 Place these SimpliSafe decals on your windows and doors as an extra deterrent.
Home Security Yard Sign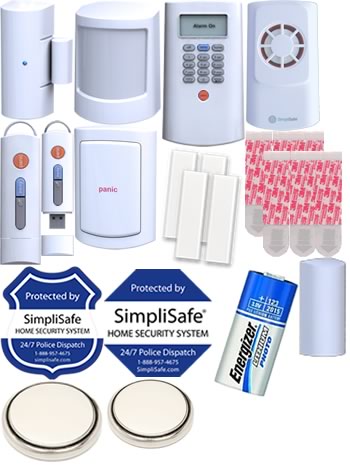 They measure
9"x 9" with all-weather adhesive pre-applied on the back.
---
Motion/Entry Sensor Replacement Battery
(5 year)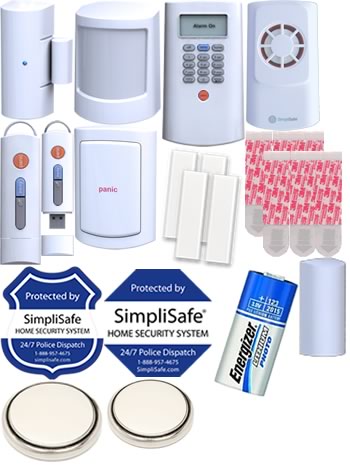 These CR-123A lithium batteries power your Motion & Entry Sensors and are easily installed.
Keypad/Siren Replacement Batteries
(4)
Lasting 1-2 years, these AA batteries will power your SimpliSafe Keypad or Extra Siren and take only 30 seconds to install.
Keychain Remote Battery Replacement
(5 year)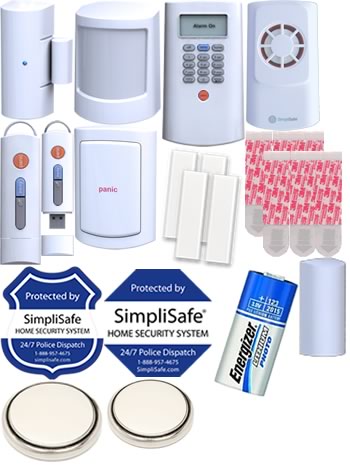 These CR1632 lithium batteries power your Keychain Remotes and are easily installed.
Panic Button Battery Replacement
(5 year)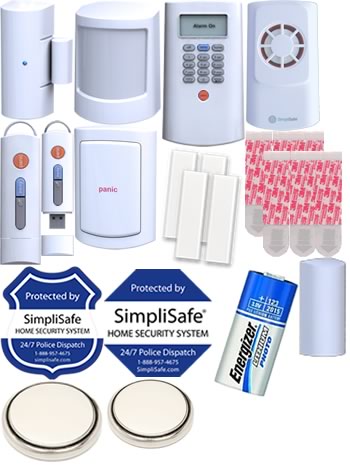 These CR2032 lithium batteries power your Panic Buttons and are easily installed.
Adhesive Tape for Sensors
(6 pieces)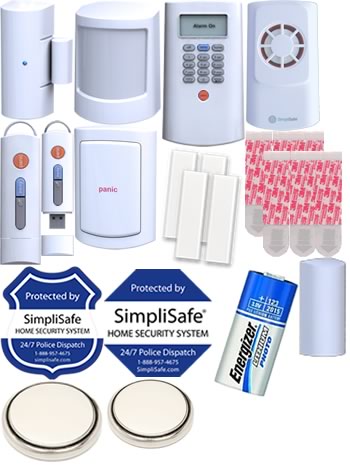 3M Command Strips hold firmly, come off cleanly, and leave no wall damage.
Adhesive Tape for Entry Sensor
Magnets
(4 pieces)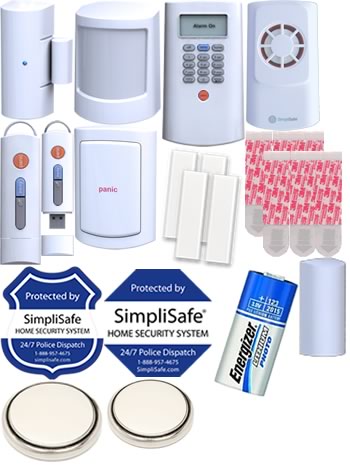 If you're moving your entry sensors, don't forget adhesive tape for magnets!