You can control the new SimpliSafe2 Base Station settings online, when you subscribe to our new no-contract plan: 24/7 Total Monitoring Plan + Online Command. For just $24.99/month you'll have remote control of your security system from anywhere in the world. All you need is internet access (upgrading to the new service plan is entirely optional).
Online Command gives you the power to:
arm/disarm your system
name sensors and PIN's
add/remove sensors and change their settings
check the status of your alarm and all sensors at all times
and more!
Did you forget to set your alarm system?
That's not an issue anymore with online command

What Sensor triggered that alarm?
With online command you can name your sensors. That way you can easily identify which one was triggered, is open or that you'd like to change settings for.
Ever wonder if someone is snooping around your private stuff?
Wonder no more with our new Secret Alerts! The SimpliSafe2 has a new setting for Entry and Motion Sensors called "No alarm—sms/email alert only." When sensors on this setting are triggered, you'll get a Secret Alert! letting you know about it, but your alarm system will remain quiet...no alarm is triggered.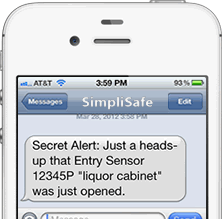 This is a great setting to use for protecting jewelry boxes, the closet in your master bedroom, file cabinets, or drawers holding sensitive or private materials. Parents will find it useful for protecting the liquor cabinet and ensuring they are aware of anyone accessing medicine cabinets where powerful and dangerous prescription drugs are often stored.
Want to give someone access to just a portion of your home for a short while?
On occasion you might want to give someone access to a portion of your home (a shed, entryway, or garage) without needing to disable your entire alarm system, giving them unnecessary access to the rest of your home. You may want to do so for just a small window of time.
Do it with Online Command!
You'll have the ability to change any sensor setting remotely from anywhere that you have an internet connection. Just select the Entry Sensor or Motion Sensor you'd like to disarm and change its setting to "No alarm—sms/email alert only." The sensor won't trigger an alarm, but you will get a Secret Alert! letting you know when your guest has arrived and triggered the sensor.

Coming Soon: Fire, CO, Freeze and Flood Monitoring
Throughout this year, SimpliSafe will be releasing new sensors. Once they are available this plan will include 24/7 monitoring for fires, floods, carbon monoxide, and freezing temps.
For a limited time, SimpliSafe customers have exclusive access to the new SimpliSafe2. All customers interested in upgrading to the new SimpliSafe2 Base Station platform can redeem their $100 upgrade offer online. Upgrading is completely optional. We will still be selling, supporting and servicing our original system.
When we launch the new system to the general public we will offer two models: the original SimpliSafe starting at $199.99 and the SimpliSafe2 starting at $299.99. This SimpliSafe2 is a new product line, and the Base Station is $100 more expensive. This is the cost of the $100 upgrade. We are replacing your Keypad and a USB Keychain Remote free of charge.
We are offering this upgrade path for current customers so that you won't be purchasing the new system outright, just paying the price difference. The new system is a new set of hardware with much greater functionality. The upgrade offer is to make sure we are not penalizing our current customers who would have purchased the more fully featured $299.99 version if it was available at the time of their purchase. You do not need to upgrade your system, as we will continue to sell and support both. If you would like this new product, you can upgrade simply by paying the price difference between the product you have already purchased, and the new product we're making available.
All of your original sensors will work with the SimpliSafe2 Base Station including any: Extra Keychain Remotes, Panic Buttons, Entry & Motion Sensors. Learn more about this offer on our Upgrade offer post here.