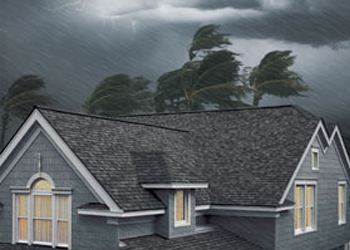 In the event of a hurricane, do you think you or your family is prepared? Forecasters believe the Atlantic hurricane season got off on to an early start and will likely continue to keep busy, supplying a couple of more storms than initially anticipated. Protect your home and valuables with some tips provided by SimpliSafe Home Security.
One of the last things we think about when it comes to a hurricane is home security, but water and wind damage is not the only threat to your home during a hurricane. When people are asked to evacuate their homes due to a severe hurricane rolling in, not every resident in the area leaves. Some stay back to ride it out, some stay back for the criminal opportunities.
I mean think about it from a burglar's perspective, most of the people in the area have left their homes and their valuables are ripe for the picking. It's not fun to think about, but here's an example of one guy who attempted to break into a woman's home just as Hurricane Isaac made landfall. Just last week, in the wake of hurricane Isaac, the New Orleans Police Department arrested 42 people for looting. Most of the targets were vulnerable businesses and homes.
So How Can a SimpliSafe Home Security System help you during a hurricane?
Cellular Monitoring – Often the first utility to go down during a hurricane is your home phoneline. Due to severe winds of 120-150 mph, many phone lines are destroyed. A traditional alarm system (which depends on a conventional phone line connection), becomes useless in the event of an emergency. As reported by CNN, cellular communication infrastructure is much more robust and stands up much better in a hurricane. Cellular alarm monitoring will keep your burglar alarm connected your security company's alarm monitoring center in the event of an emergency.
Power Outage Protection – Another utility that you can expect to lose during a hurricane is power. Like the phone lines, extreme amounts of wind can easily rip through power lines causing power failure for many homes. Most home security systems have no back-up power source, and of those that do, many only have enough juice to give you an extra 4-8 hours of protection. When your home and neighborhood are dark, the last thing you want is for your security system to completely fail and destroy your peace of mind.
Wireless security systems offer battery powered components, which are independent of the grid. Some, like this home alarm, use long-lasting lithium batteries in their sensors.
In addition, it's important to have a long-lasting backup battery to power the main control unit of your home security system. This is the unit that controls all signals in your system. You want a system that will give you up to 2 days of back-up power. Ideally your security system would allow you to switch out the batteries in the control unit to ensure you could have home security for as long as you necessary until power is restored to your home.
Flood Sensors & SMS Texts – Another one of nature's furies provided in a hurricane is water, and lots of it! Floods can severely ruin a home causing warped floors, ruined cabinetry, mangled carpets, and destroy any valuables you have placed on the floor. If you have a vacation home in a flood sensitive part of the country, get an alarm system that can send you a text alert and email letting you know whenever a water sensor is triggered. This gives you a chance to call a contractor, neighbor, or friend to check in on your home.