One Time Offer:
SimpliSafe is the only alarm company who will dare to do this...
We are so sure you'll love the peace of mind that comes with our 24/7 alarm monitoring service that we're prepared to offer you a 30 Day FREE TRIAL.
Our team of expert monitoring specialists guards your home every second of the day to provide continuous protection, advanced detection and rapid response.
No Contracts. No Commitments. Cancel Anytime.
Choose your

Free Month

of 24/7 Professional Monitoring
Interactive $24.99/mo add to cart
Standard $14.99/mo add to cart

24/7 Professional Alarm Monitoring & Police Dispatch

Our team of expert monitoring specialists guards your home every second of the day to provide continuous protection, advanced detection and rapid response.

► U.L. Certified Monitoring by highly-trained security specialists
► Average response time of just 12 seconds (5-6 seconds faster than other companies)
► Police Dispatch for Burglar Alarms
► Fire Fighter Dispatch for Smoke Alarms & Carbon Monoxide Alarms
► Courtesy Call for Water Sensor & Freezing Temperature Alarms

Huge Savings on Homeowners or Renters Insurance

24/7 alarm monitoring can pay for itself with discounts of up to 20% on your home insurance.

Dedicated Cellular Defense

Unlike the outdated wired systems, SimpliSafe uses a dedicated, high-speed cellular connection that burglars can't cut! In the event of an intrusion, our built-in cellular technology immediately alerts our command center—no phoneline necessary! We use both Verizon and T-Mobile carriers for this service so that it works everywhere and for everyone.

On-the-Go Mobile Control

You'll have access to advanced system control from anywhere in the world. From your smartphone or laptop you can easily arm or disarm your system, change settings, and make adjustments to your security alarm settings.

Powerful Smartphone Security App

Forgot to set your alarm? No problem! You can monitor your alarm status and arm/disarm your system in no time with our FREE and easy-to-use Android, iPhone or Windows app!

Constant Connection SMS Text & Email Alerts

With alarm and activity alerts sent directly to your phone, you'll never have to wonder whether your home is safe again! You'll know everything that's happening, as soon as it happens. Plus, you can add friends and family members to keep your whole network informed!

Secret Alert (discover snooping in your home)

Keep track of your closets, cabinets, safes and more with new "alert only" sensors.

SimpliSafe Alarm Monitoring Guarantee: No Contracts, Ever. Our customers keep coming back because of our exceptional security and legendary customer support, not because of contracts & commitments. Cancel Anytime. No Commitments.

$24.99

/mo

add to cart

▶

$14.99

/mo

add to cart

▶

Claim your free month now!
To get the most out of your SimpliSafe system, we do recommend monitoring. But if you aren't ready to subscribe today, no problem! Your alarm will function as a local siren alarm. If you change your mind, you can subscribe to one of our plans later.
No Thanks —
I don't need 24/7 protection

>>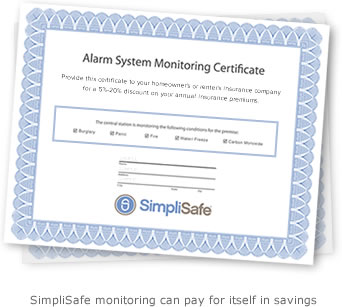 You'll Save Up to 20% on Home Insurance–
As Soon As We Send You this Certificate
Home insurance companies know the value of professional alarm monitoring. That's why they will give you a discount of up to 20% on your insurance premiums to keep your home secured! With savings that great, your professional alarm monitoring might even pay for itself.
As soon as you are protected by SimpliSafe's 24 hour alarm monitoring, you will receive a free alarm monitoring certificate. Just show this certificate to your home insurance agent, broker or company to find out how big your savings will be!
Over 100,000 SimpliSafe customers are saving money on their insurance premiums! These are just a small sample of the insurance companies we work with:


Offer Details
One month of 24/7 Alarm Monitoring is on us! We're that confident you'll love our service. And if we're right, you won't need to do a thing: at the end of 30 days, we'll automatically renew your service for another month and you'll continue to be protected by our unbeatable home security.

Unlike the other guys, our free offer has NO strings attached. With SimpliSafe you're free from contracts and obligations. You can easily upgrade, change or cancel your monitoring plan at any time with a quick call to our friendly customer support team. No contracts means no cancellation fees, no minimum commitments, no hassle: you're in control.

Just choose which of our plans you'd like for your Free Trial above. Once you've finished up your order, you'll receive an email from us with your order invoice—there you'll find your FREE alarm monitoring activation code. When you are ready to start the 30 day Free Trial, you can use your activation code to connect your SimpliSafe alarm system to our monitoring center.

Hurry—this is a limited time offer. Offer is only available to customers when purchasing a new SimpliSafe home security system. Select your free trial plan now!
SimpliSafe is highly recommended by: