Extra Entry Sensor
Price: $14.99
In stock: ships within 24 hours, Mon - Fri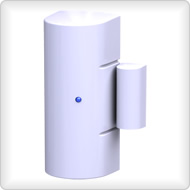 Size: 3 x 1.25 in
Entry Sensors protect doors and windows that may be accessible to intruders. When deciding how many you need, it helps to consider the following:
How many of your windows and doors are on a ground floor? Ground floor entry points are typically the most vulnerable in a home and should usually be protected.
How many windows and doors are accessible from a balcony, terrace, or fire escape? These entry points are generally less vulnerable than a ground floor window, but are another way intruders may enter a home. You should consider adding a sensor to these entrances.
Will you have a Motion Sensor in the room? A Motion Sensor reduces the need for an Entry Sensor at every entry point.
Recommendation: Assess your space and order enough sensors to cover vulnerable areas such as ground floor windows or balconies. If you need help deciding or want more advice, please feel free to call us for assistance at 1-888-95-SIMPLI (957-4675).