No matter your age, gift shopping for mom and dad can be a struggle. I know when it comes to Mother's Day or Father's Day Gifts, I always feel like they already have everything! Well, maybe this is the year to think outside the box. Get them a gift that will keep them protected, and give you some peace of mind. Here's a list of ideas to start you off.
Medical Emergency Assistance:
It may seem like an odd gift, but older people tend to worry about having an emergency and not being able to get help. What happens if they fall and can't reach the phone? Or, if you have a parent with memory issues, you may worry that they'll get disoriented when they're alone. That's where medical alert service providers like Lifeline come in. These services can help older adults live their lives more independently and can provide a real comfort.
Stay Connected:
Sometimes a phone call just doesn't cut it, right? If your parents live far away, staying in touch can be difficult, particularly when technology is a barrier. If your parents are still using an older phone or computer, consider getting them an easy-to-use tablet. There are countless varieties, ranging from simple designs like iPads to specially designed grandPads.
The hardest part is picking a product that meets the technical ability of the user. But the best thing you can do after you pick a tablet is customize it. Give it to your parents preloaded with just the apps they need, and delete the ones they don't. Not only will you be able to easily communicate via video chat like Skype™ or FaceTime®, or simply by calling them, but they'll also be able to see photos, browse the web, watch their favorite show, and even read books! Since some seniors can be intimidated by technology, a great add-on gift would be a tutorial on how to use the device.
Stylish Sun Safety:
Older generations are not any less susceptible to sunburns or other damage from UV light, and many people may experience diminished defenses as they get older. Luckily, there are great ways to protect your parents (while also getting them some cool stuff.) Upgrade your parents' sunglasses with a stylish and protective pair from Warby Parker. Or put together a new outfit for them that also block UV light. You could also make a gift basket of organic skin care products that include SPF protection.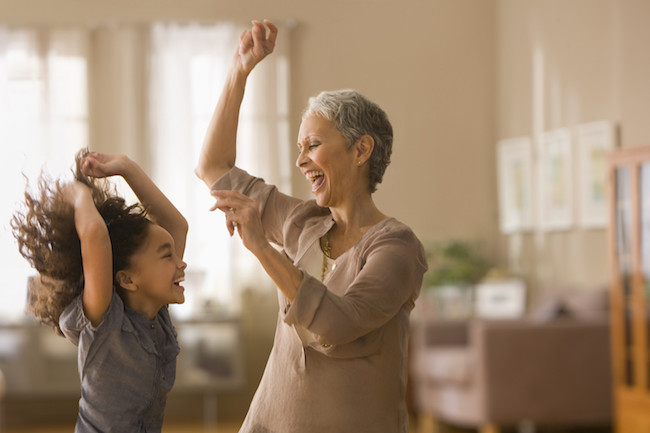 Get Active:
Fitness trackers are all the rage now, and there's a good reason for this. Staying healthy and active can be a challenge, particularly when you're older. And keeping track of an exercise routine can also be difficult. A fitness tracker like the Fitbit® activity tracker or the Jawbone UP™ wristband will not only help to keep an eye on how much your parents are moving, but also help encourage them to keep moving. Like medical alert devices, there are a variety of wearable options ranging from clip-ons to bracelets. As a bonus gift, connect their tracker to their tablet and show them how to analyze their activity!
Protect Their Home:
We've talked in the past about why SimpliSafe is great for seniors. It's easy to install, easy maintain, and provides professional monitoring at an affordable price. SimpliSafe will also keep an eye on freezing pipes or leaky basements, not to mentioned fire and carbon monoxide protection. You can also keep an eye on your parent's' home by tuning in through the app or signing up for text or email alerts.
************
Disclaimer as to Third Parties Listed Above:
The third-party manufacturers and brands listed or linked to above are not sponsors or otherwise affiliated with this blog post. They are referenced solely as examples of relevant and popular product offerings. All third-party names, logos, products and service names listed above are the trademarks of their respective owners.