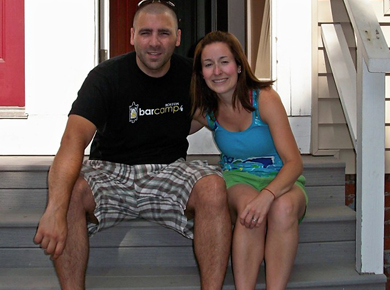 Just over three years ago, on a Thursday morning in March, my husband and I were rushing through our normal routine to get ourselves out the door. He was going to a concert that night, and I was heading to a friend's house for dinner. Around 9 pm I started my 10-minute trek on foot back home.
When I arrived home I was unlocking the door and noticed a dim light inside. We must have left one on, I thought. As I entered, the small television in our living room was gone. As I turned my head further I saw the storage ottoman where I house all my camera equipment. It was on the couch, tipped over and empty.
I left the house, stood on the front steps and called my husband. I still didn't want to believe what I already knew. The band was on a break and he actually answered his phone on the first ring. With my voice shaking I asked him if for some reason he came home before the concert. I started to sob.
I ran back to my friend's house and he immediately took a cab and met me there.
It didn't take long for the police to confirm the worst. The side window was wide open, the locks to it were on the ground; our home was trashed and everything and anything of value was gone.
We stood in disbelief, with three cops, a detective and a trashed and violated home. "How could this be?" I asked over and over again. Every window in the house was locked. Locked or not they were still able to pry apart the panes, pop the locks and help themselves to anything in our home. Of which they did, entirely.
Traumatized is not nearly a strong enough word to describe the feelings of that experience. I was determined to do everything in my power to regain a sense of stability, safety and peace of mind again.
Here's how we found SimpliSafe...
As I was recounting my story to a co-worker she told me about SimpliSafe and provided me with the name of a contact she knew there. Within minutes I had reached out and received a response back just as quickly.
It took us no time at all to sign up. We knew we needed this. We used the online ordering, customized our system to our needs and within days we had the system on our doorstep and we were installing it.
We've used our system every single day for over three years and have not one complaint. It has worked every time it's needed to, which thankfully has only been for a few false alarms (landlords, repair men). Never has the system failed us.
Here's why we love SimpliSafe...
We've had a few reasons to reach out to SimpliSafe over the years, nothing major: a sensor not responding, a billing question or needing more parts for a larger apartment. Each time, they've had a new part on our doorstep the next day or have responded via email within the day.
There was even one time when I was clearly melting down on the phone to the service people about how I can't be here without the alarm working properly. Seeing as though we were just a few neighborhoods away from their main offices and it was the end of the day, they actually hand delivered the part that we needed. Really, that happened! I think I wanted to hug the nice man, but I controlled myself so not to scare him.
This is what I mean though. They are the most fabulous company to have to communicate with. They provide an outstanding product and they truly care about their customers and target market.
No matter what home we live in, whether it be in a city apartment building or a home of our own we will forever use SimpliSafe. There has been no better peace of mind than the beeping sound every time a door or window is opened or the sound of the lady's voice on the system saying "Alarm On!" every time we leave. She even tells you when the battery is getting low or if there's a sensor not responding. I mean honestly, SimpliSafe was by far Siri's first job!
Though incredibly painful to relive, I'm happy to know that our horrible experience is helping others keep themselves safe. And I can honestly say that I would never know peace of mind in my home if it weren't for this experience and weren't for us finding SimpliSafe. Thank you SimpliSafe, for your continued support and dedication in providing your customers with the greatest peace of mind!
This guest post was written by Lindsey Thomason over at EveryDayOrginals. We really appreciate you sharing your story with us Lindsey!