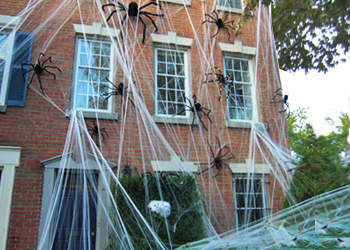 Trick-or-treating isn't just for kids living in suburbia. Kids everywhere love knocking on doors for candy, and apartment buildings are a sweet way to get tons of treats in the shortest distance! However, there are a couple of extra factors that come into play when celebrating this holiday, apartment security being one of them. If you're expecting candy searching ghouls and goblins at your apartment this Halloween, follow these tips provided by SimpliSafe Home Security.
If You're Expecting Trick-or-Treaters
Be Welcoming – Having decorations on your door will let trick-or-treaters know that you're giving out the good stuff (candy). Maybe try these Halloween decorations for your apartment rental.
Beware of Dog – It's always a good safety measure to keep dogs, cats, and other pets a safe distance from trick-or-treaters. Kids scare easily and some pets can get hostile or make a break for it out of the apartment, causing more of a headache.
Offer Trusted Treats Only – Parents have a lot to worry about when their children bring a bag-o-candy home, so give them a break by offering store-bought, pre-packaged treats.
Set The Stage – If you really love Halloween, go the extra mile. Hang a ghost from the trees in the front of your apartment building and put out some jack-o-lanterns.
Protecting Your Apartment
Halloween is an ideal time for vandals and burglars to attack. This goes the same for apartment dwellers. Here are some basic Halloween apartment security tips you can use if you plan on leaving or staying home at your apartment on Oct. 31.
Hold the Fort – Never allow anyone into your home, even if it's the parent of a child. You never know who you're letting into your apartment.
Lock Up – If you plan on leaving your apartment for the evening, don't forget to lock your doors and windows. This should go without saying, but it's amazing how many people still leave their doors unlocked, making the job for a burglar easier.
Set A Cut-Off Time – When I was growing up, our neighborhood had a cut-off time for trick-or-treating. For safety reasons, trick-or-treaters should be off the streets by 8 or 9. Answering your door after that exposes you to a greater risk of a home invasion or burglary.
Tweeting Your Halloween Plans – Some burglars scout their next target using social media sites such as Facebook and Twitter. Try to avoid "tweeting" your Halloween plans, because if a burglar knows that you're leaving your apartment vacant for the night, they'll be tempted to strike.
Apartment Security System – If you have an apartment security system in place, don't forget to arm it. It can be your first line of defense against an intruder or burglar. If you don't have one, there are plenty of affordable DIY home security solutions out there that don't require you to have a land line.