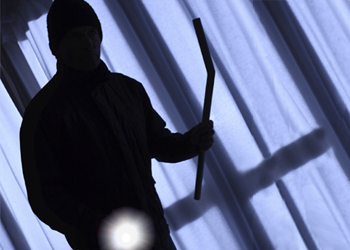 The following information is often given out by police, to prevent anyone being harmed during a burglary:
By carrying out these simple steps provided by SimpliSafe Home Security, you can make your property's occupants safer.
Do What The Burglar Tells You To Do
Remember, your main priority is the safety of the people inside the property. Most burglars are there to steal, not to harm anyone. If you're insured, you can recoup the cost of the things stolen. Either way, you don't want to put anyone in danger for the sake of possessions.
Remember That The Burglar is Likely to be on Edge Too
Don't do anything that will surprise them. If needed, tell them where you are, and if you are about to move, tell them what you're about to do. Let them know if there's anyone else in the building, or if you're expecting anyone.
Only Activate an Emergency Alarm if it Can be Done Secretly
SimpliSafe's wireless security system can send a secret "distress signal" to Simplisafe's wireless alarm monitoring center. Whenever you enter your secret "duress PIN" into your keypad, the system quietly sends your SOS signal to our monitoring center. We then send the police straight to your home.
Pay Attention to The Robber's Appearance
This can later help the police to track them down. In particular, look at their face and clothing and any markings. Also, pay attention to the direction in which they leave, and details of their transport (the type of car, for example, and its make and color).
As Soon as The Burglar Leaves, Lock All the Doors and Call 911
Try to avoid going into the areas where they've been, because you may accidentally disturb any clues that the burglar has left. Avoid touching items, which may have the burglar's finger prints on them.
Write Down Everything You Can Remember About The Event
Memories fade quickly, and you want to capture every clue that may lead to the burglar's arrest.
Ensure That Any Witnesses Stay Around Until The Police Arrive
If a witness insists on leaving sooner, make sure they leave their contact details with you. If you are in any doubt as to whether they have left the correct contact details, ask to see evidence of their identity, such as their driver's license.
What Next?
If you decide you want to protect your property with a SimpliSafe burglar alarm, just visit www.simplisafe.com—or call us at 1-800-548-9508.