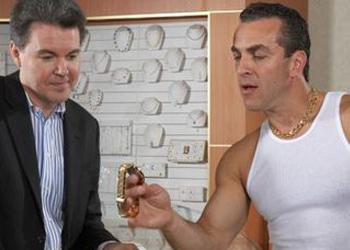 Ever wonder what happens to a home burglary victim's valuables? We all know that burglars aren't burglarizing homes to furnish their own home. They're looking to cash in on their new found booty, but how are they turning your valuables into cold hard cash? We previously had the chance to sit down with a real-life burglar who gave us the lowdown on some inside trade secrets and how to ultimately improve your home security. We thought it would be a good idea to bring him back for another Inside The Mind of A Burglar series, and he's agreed to give us some more information on what happens to your valuables after a burglary.
Hi, it's Bob again, your local neighborhood burglar!
Sorry for the hiatus, the summer months are my busiest!. You wouldn't believe the season I've had!
When SimpliSafe asked me back for information for this upcoming article, I thought to myself: "Sure, why not? My last article didn't seem to be bad for business." So here's a little insight into what happens to your stuff after a burglar strikes!
Here's what happens to your valuables after the burglary:
There is one simple reason I'm breaking into your home: to turn your valuables into cash. I mean, I'm not doing this for my health. This is my living and something needs to pay the bills.
So, you're wondering where a burglar takes your stuff to convert it into cash. There are a couple of options out there, but we'll start with the obvious:
The Pawn Shop
Usually one of my first stops after successfully breaking into someone's home is the pawnshop. I will never go to a pawnshop in the same city of the home I broke into. The last thing I need is someone looking around their city's pawnshops for the stuff I stole from their house.
Depending where I am, I have good connections with a few shop owners. They know the type of stuff I'm bringing in is not legit. Pawn shops are not the same as they used to be. Back in the day, you could walk into pawn shop, hawk your items, collect your money with no questions asked. Nowadays, you need an ID with every sale. Fortunately for me, I've found a way around this: a fake ID.
Some of the stolen items I take into a pawn shop are jewelry, electronics, collectibles, musical instruments, and tools.
Craigslist & Ebay
This can be a valuable resource for me at times. Sometimes, I run into items that I'm unable to sell at a pawn shop, so I take to the internet. There's always a buyer in cyberspace. The best thing about this is that I never have to provide an ID, and the owner of the item never runs into it at a pawn shop. It's essentially one of the safest and best options out there. It's worked for me countless times!
Fencing Operation
This one is rarely known to regular folks like you. A fence is someone who knowingly buys stolen property to later resale. Some of the most common fencing operations you see out there are pawn dealers, mom-and-pop shops, and organized crime groups.
Here's how it works: They give me a grocery list of items they need, I got out and burglarize homes until I have everything checked off their list. I go back with the items they have requested and they pay me. It's as simple as that. They demand, I supply. The reason why I prefer dealing with a fencing operation is largely due to the fact that I know what items are hot and what I'll get top dollar for. This eliminates me wasting my time driving around to pawn shops, or posting items online for sale. The fence does all middleman work for me.
Drug Dealers
There are some burglars out there who give us "professionals" a bad name. I'm talking about the thieves who steal to support their drug habit. These guys aren't very good at what they do, but hey, they do get the job done, most of the time.
These guys have it somewhat easier or harder depending on how you look at it. The drug-seeking burglar is looking to convert your valuables into cash so they can score a high. Sometimes, they don't even have to find a way to get cash out of an item. They'll simply barter or trade with their drug dealer for the drugs they need. The dealer in turn uses his large organized crime network to turn the goods into cash.
Bob's Final Thoughts
So there you have it, that's what happens to your stuff if your home is ever burglarized. Tons of people are looking to profit from burglary, and that's not even including me. A lot of people buy stolen goods without even know they are doing it, and many don't even really try to find out, which just makes my job easier.
Keep your eye's peeled for next week's article on how to recover your items.