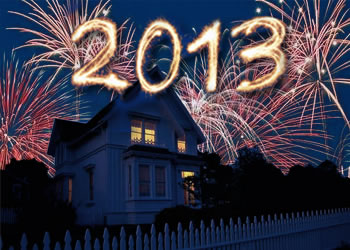 Fireworks have gone off, champagne's been poured (probably all over the floor), the ball has dropped - we've officially made it to 2013. After you've swept up the confetti, thrown out your old calendar, and reminisced about last night's party, it's time to look toward the year ahead. Why not start by making some home security resolutions? The SimpliSafe team has collected a bunch of new year's tips for you, covering everything from fire safety to social media security to burglar-repellant landscaping. Check them out, and get your year off to a safe start.
Get Out More: Never Leave Your House Home Alone Again A new year is the perfect incentive to pick up snorkeling or basket-weaving, or to finally plan that trip to Fiji you've been talking about for so long. It's even easier to head out on new adventures when you know your house is safe and sound without you! Set aside some time to burglar-proof your property - lock down your garage, set up some light timers to fool burglars, choose the right deadbolt, and make sure your landscaping choices repel thieves instead of inviting them in. And don't forget the last line of defense - a good home security system.
Quit Smoking: Fire-Proof Your Home No one wants to ring in the new year with a fire truck siren. January is a great time to change the batteries in your smoke and carbon monoxide detectors, and to check that your fire extinguishers are accessible, clean, and working properly. If you haven't yet, develop an emergency escape plan for your family and make sure everyone knows it. When you're all roasting chestnuts together, take a minute to teach your kids that fire is a tool, not a toy - children playing started 56,300 fires between 2005 and 2009. Finally, get rid of broken appliances and other fire hazards - if your toaster's been acting a little funny, now's the time to replace it (new year, new toast!).
Make New Friends: But Stay Socially Secure! Social media is a fun and easy way to get to know new people and to keep old friends updated on your life (and, say, your new year's resolutions). But with more and more sharing, there's more and more potential that a bad guy's the one reading your tweets. Protect your home from tech-savvy burglars by choosing your online friends wisely, never posting your address, and not telling the internet when you're going out of town. Plus, protect yourself from creepy social media stalkers by reviewing the privacy settings on your profiles and being aware of the kind of information you share about yourself online.
Be More Empathetic: Think Like A Burglar It might not be top on your destination list, but venturing into a burglar's head can help you keep him out of your house. Take a walk around your property and pretend you're thinking about breaking in. Do the high shrubs near your doorway suddenly look like a great lurking spot? Might want to trim them down. Are there expensive electronics right in your front windows? They suddenly look less like iMacs and more like low-hanging fruit. Make a couple changes and frustrate your inner burglar, and the real thieves will be more likely to pass you by. Make sure you do a once-over on your car, too - you don't want to start the new year following tire tracks.
What are your New Year's Resolutions - security-related or otherwise? Let us know in the comments!