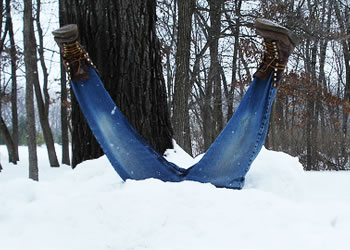 This blog often focuses on burglars, prowlers, and other human threats. Sometimes, though, the biggest home security hazards are the kind you can't chase down — like this weekend's SuperStorm. Luckily, SimpliSafe Home Security has you covered for those, too. Read on to find out how Barbara, a quick-thinking SimpliSafe customer, protected her home with smart wireless security — even from far away!
A Blustery Villain . . .
"Cape Cod summer home" brings to mind sun and sand — not snow and sleet. But the truth is, when we wave goodbye to our vacation houses for the season, they don't disappear. They wait dutifully for us, standing proudly through icy nights and winter weather — even when that weather is as intense as New England's latest blizzard — Nemo. Nemo found Cape Cod this past weekend and did some serious damage, knocking down trees, dumping foot after foot of snow, and leaving 80,000 homes without power — including Barbara Tracy's summer house.
A Domicile In Distress . . .
When the temperature in a house drops below freezing, water in the plumbing system can swell enough to crack the pipes. Later, when the temperature rises and the pipes thaw, all that water is sent racing into your home, warping walls and floors, destroying rugs and furniture, and wreaking havoc like only water can. It happens all the time — burst pipes are one of the leading reasons for insurance claims in the northeastern US. Between the power outage and the plummeting temperatures, the Tracy house was on a collision course with all kinds of costly damage, and the Tracy family was in for months of logistical headaches and long-distance repairs.
SimpliSafe Swoops In!
Luckily, Barbara is a SimpliSafe customer, which means she had set up a freeze sensor in her basement and text alerts on her smartphone. Her system did its job: "There was a major power outage at the Cape. My iPhone told me the heat was at 46 and I freaked out." Although they couldn't arrest Nemo, local law enforcement was happy to help: "Called the police at Cape Cod and they turned off the water to save our pipes." Damage: prevented. Home: safe and ready for sandy feet once again. Barbara: happy — "Thank you, SimpliSafe, for saving our summer home!"
Has SimpliSafe helped you out of a foul-weather close call? Share it in the comments, or send us an email. We'd love to hear about it!