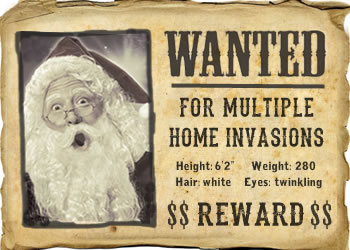 BREAKING NEWS: U.S.A. - Throughout history, he's gone by many aliases: Saint Nicholas, Sinterklaas, Father Christmas, Kris Kringle. But this year, some law enforcement officers hope to reveal the infamous Santa Claus for what he really is: the world's most prolific, and strangest, break-in artist.
"We just can't figure out how he does it, over and over again," Officer Jack Frost of Humbug, Arizona. "We know exactly what he looks like - boots and a suit of red? cherry nose? laughs this way, ho ho ho? must be Santa - and he strikes on the same night, every year. And yet he's never been caught. He's a home security menace. He's like a big, fat Houdini."
Special prosecutor Candy Kane of Mistletoe, Kentucky, who has been assembling a case against Claus for years, says the data is mind-boggling. "Latest counts show that he's in and out of several hundred million homes annually, covering 175 million sky miles," she reports. "And he's carrying about 660 million pounds of goods. Scientifically, the momentum should take him straight into outer space. But it doesn't."
These staggering numbers are not explained by his methods, which, as Frost points out, are less than efficient. "He's got a team of nine reindeer pulling a totally open sleigh, often through highly militarized airspace. Fly past the wrong tower and that guy's toast. All they've got for light is Rudolph's shiny nose, which is so low-watt it belongs in an Easy-Bake Oven. And the deer's names all sound the same, so who even knows how they hear his commands way up there, with the wind gusting around." Not to mention what happens when he actually reaches his target houses: "We've got satellite proof that the reindeer land on the roof, which invariably arises such a clatter that it's a wonder he ever gets past the first house. Then he somehow gets himself down the chimney and comes out the fireplace without tripping even the most advanced home security system. He should be leaving sooty fingerprints everywhere for our forensics team, but so far nothing."
Strangest and most frightening of all is Claus's ability to manipulate public opinion. "We've got all kinds of evidence against the guy - on top of the serial break-ins, rumor has it he's got some kind of huge sweatshop operation in the North Pole, outside of UN jurisdiction," says Sheriff Ginger Breadman of Eggnog, Utah. "But no one bats an eye. People love him." A quick glance around proves this - go to any town in America and you'll find images of him in store windows (often drinking cola, which may explain the unflagging energy), imitators ringing bells on street corners, and songs celebrating his madcap adventures on everyone's lips.
What explains this menace's popular appeal? Frost thinks it may have something to do with Claus's crime of choice, which he terms "reverse-burglary," or "giving." "Rather than taking stuff from peoples' houses, this guy figures out what people want, wraps it up all nice, and then puts it in the house," he explains. "Only thing he takes is the occasional cookie. People seem to really go for it." Sheriff Breadman concurs. "We could have caught him by now, but no one ever turns him in. It's like they want him to stay out there. We've never seen anything like it."
If you have information on this criminal's whereabouts, please call the FBI holiday tip line at 1-555-STNICKD.