During the holidays, it can be easy to forget about the importance of protecting yourself and your home. It's important, though, to take a moment and make sure you and your family are secured against everything from identity thieves to porch pirates to freezing temperatures. Here are a few of the best practices for every stage of this holiday season.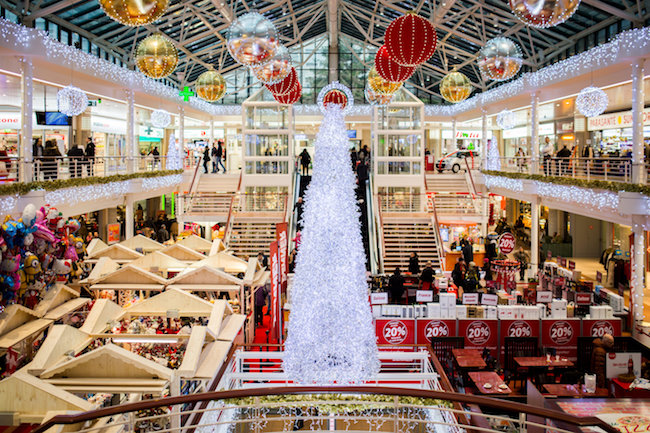 Safety While Gift Shopping:
You have a long list of kids, uncles, and second cousins who are coming over for the holidays and only one weekend to get gifts for everyone. While you're at the mall, make sure you're keeping an eye on your credit cards and holding onto receipts. Be sure to double check all of your bank statements after shopping to make sure nobody is using your credit card number. While running around, try not to overload yourself with gifts. Your chances of misplacing the expensive new gadget or of someone reaching into your pocket are higher while you're distracted and your hands are full. If you're hitting stores one-by-one in your car, don't leave gifts lying in the back seat for anyone to see. You never know - the special edition toy in your back seat could have been the last one available in the entire town!
If you're shopping online make sure you're keeping track of your packages and only buying from reliable websites. Don't enter your credit card number on any site you don't recognize. Try to be home when your deliveries arrive, or pick them up in store. Stay tuned for a new post with even more online shopping tips to fight off porch pirates next week!
If You're Hosting This Year's Party:
Whether it's your first time hosting or you do this every year, there are a few safety tips to keep in mind as your house fills up. Starting in the kitchen, make sure you never leave the stove unattended. It may seem like an obvious statement, but winter is the biggest season for fires, and cooking is the leading cause of winter home fires. If you're letting the little ones help out, keep an eye on them while they're handling dangerous utensils. And while you're whipping up food and drinks, put together something tasty for anyone who will be driving. Sparkling cider or a wintery punch is always a great option!
The other room in your house you should be wary about is the family room. Again, there are fire hazards here to look out for. Don't place candles near your Christmas tree. If your tree is a live one, make sure you water it - dry trees can catch fire more quickly. Keep an eye on any Christmas lights, or anything hot near wrapped gifts. It's also a great idea to clean out your chimney (we want to give Santa an easy path, right?). Take this opportunity to test your Smoke Detectors as well. And while kids are running around, make sure they can't hurt themselves with fragile ornaments.
Pets During the Holidays:
Let's not forget about our four-legged family members! If you're hosting, think about how your pets may feel around a large crowd. Are they skittish or overly friendly? Consider setting up child or pet gates to give pets some privacy, and keep them away from the presents. Keep pets away from the water dish for your tree - there may be dangerous pesticides there. You'll also want to keep them away from low hanging ornaments that could be mistaken for tasty treats. And if they wander into the kitchen, make sure they can't rummage through your trash and snack on something that could harm them (this includes bones from a chicken!). Finally, keep dogs away from mistletoe and holly - they are toxic!
If you're traveling and the pets have to stay behind, make sure they have plenty of food and water. Have someone check on them and walk them, and keep an eye on the temperature in the house. You can use a SimpliSafe Freeze Sensor to notify you if it gets too cold. Make sure you have someone you can count on to get into your home and help if necessary.
Holiday Traveling Checklist:
If you are travelling for the Holidays, take a look at our travel checklist. This will make sure your home is in good condition, and when you know it is, you'll be able to relax and enjoy time with your loved ones.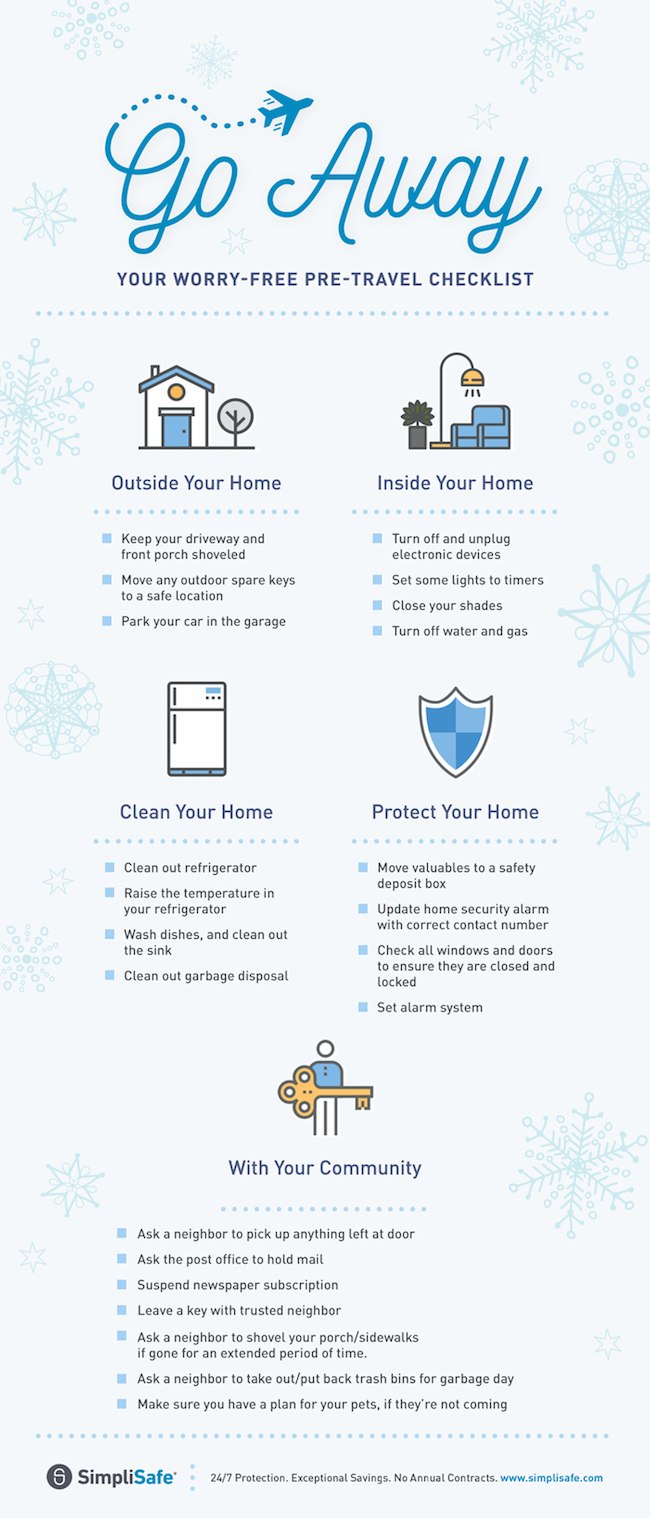 If you're still looking for a good gift for that hard-to-buy-for person in your family, we have you covered. Give the gift of peace of mind with a SimpliSafe system! And from all of us here at SimpliSafe, Happy Holidays!