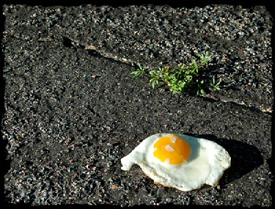 Ingredients: Mix together some heat, a dash of school vacation, an empty apartment and a pinch of overly revealing status updates on social media sites ("@all I'm on vacation! Yay 2 weeks off!") and we're all served up a rise in home invasions.
It's food for thought: according to FBI crime statistics, more crimes are reported in July and August—the hottest months of the year.
Now the issue is more relevant than ever, as the newly minted social-media world is making it very easy for crooks to target empty homes. As increasing numbers of people use sites like Twitter and Facebook, many are sending status updates revealing personal information. A simple search for vacation on search.twitter.com can reveal hundreds of tweets announcing vacation plans. As Anne Allen recently wrote in a story for the Associated Press:
Most people wouldn't leave a recording on a home answering machine telling callers they're on vacation for a week… But users of social media think nothing of posting real-time vacation photos on Facebook showing themselves on beaches hundreds of miles from home, or sending out automatic e-mail messages that say, "I'm out of the country for a week."
She goes on to describe a story about a man in Mesa, Arizona, who believes he was robbed due to his twitter activity.
Of course, there are many other reasons for a rise in crime during summer months. Experts like Prof. McKean of Ball University point out that Americans are more active in summer and stay out longer at parks, movie theaters and other entertainment venues. Also, many people take their vacations during July and August, leaving homes and businesses vulnerable. Another common theory is that teens are out of school during summer, and they are more likely than people in any other age group to either break laws or become victims themselves.
Whatever the reason for summer's spike in burglary, now is clearly a good time to make sure you're not a target . Police Officer Mark Solomon, of Seattle PD, recently made a few good recommendations to his city's residents:
Close And Lock Windows; limit how far they can be opened. Use dowels for sliding glass windows and cut to limit the opening to 4''
Lock your doors at all times
Secure your tools and ladders
If you are going to be away for an extended period of time ask your neighbors to keep a look-out for you. Ensure that someone is preventing mail, newspapers, and packages from piling up outside your front door or apartment building mail area.
As for tweeting and facebooking, it's best not to mention your vacation plans. It's tempting to think that you're just talking to your friends online, but cases of theft have arisen from criminals using these public sites to find empty homes. Remember that anyone with access to your profile will know you're away. Even if you protect your status updates, this information can easily spread beyond your close circle of family and friends online through retweeting and reposting of content.
For more about the risks of putting too much personal information on the internet, read the Associated Press article. For more tips on how to maximize the security benefits of your SimpliSafe system stay tuned to our blog and be sure to subscribe to our newsletter.
From all of us at SimpliSafe we wish you a great, hot, beautiful and safe summer.