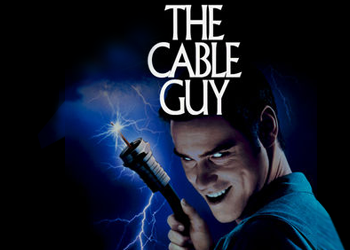 The cable guy now wants to sell you home security in addition to voice, internet, and cable. You can now expect door-to-door Xfinity salesman knocking on your door to see if you're interested in their new home security service. "Here's another package to add to your bundle," if it hasn't gotten confusing enough.
Prepare to be "Bundled" with Xfinity Home Security
If you're thinking about getting home security with Xfinity, be aware that you won't be able to subscribe to their home security service alone. Comcast requires you to sign up for a bundled service that includes paying them to provide broadband internet to your home. That'll cost $30 per month on top of their $30-50/month alarm monitoring fees.
If you ever choose to cancel your internet service with Comcast, then you automatically terminate your contract with their home security service, as stated in their home security contract below:

But with Xfinity Home Security the Real Kicker is this: The Contract
You know how we feel about long-term contracts. We don't believe in them. Just like the other guys such as ADT, Vivint, and Protection 1, Xfinity requires you to sign up for a 36-month commitment. With so many hidden fees and legal jargon, it's impossible for anyone to fully understand what they are signing.
Here are some of the highlights:

Yup, so in other words you're locked into a 36-month commitment promising them the monthly payment of $40-$50 for three years (which doesn't include the internet subscription monthly payment).
So What Happens If You Cancel?

There's a lot of legal technical jargon in there, so to make it easy to understand: YOU HAVE TO PAY A HUGE LOAD OF MONEY TO TERMINATE YOUR CONTRACT!
SimpliSafe will never require you to sign a long-term contract. We provide alarm monitoring on a month-to-month basis. You can cancel or reactivate whenever you please, with no additional costs or fees. It's protection when you need it!
Does Xfinity Home Security Really Offer The Best Interactive Features?
Xfinity prides themselves in offering remote management features, but there's a problem with their plan. The Xfinity interactive features require a broadband internet connection, which basically means the home security system transmits information over the internet.
In the event of a power outage, all of the interactive features are rendered useless due to internet service being knocked offline because of a power failure.
SimpliSafe is 100% cellular and doesn't require a broadband internet connection to take advantage of our interactive features. So even if the power goes down in your home, you will still be able to control your system remotely from your computer or Smartphone.
Is it Really Worth All That Cash?
You tell us: Here's a chart whichshows Xfinity vs. SimpliSafe2's pricing.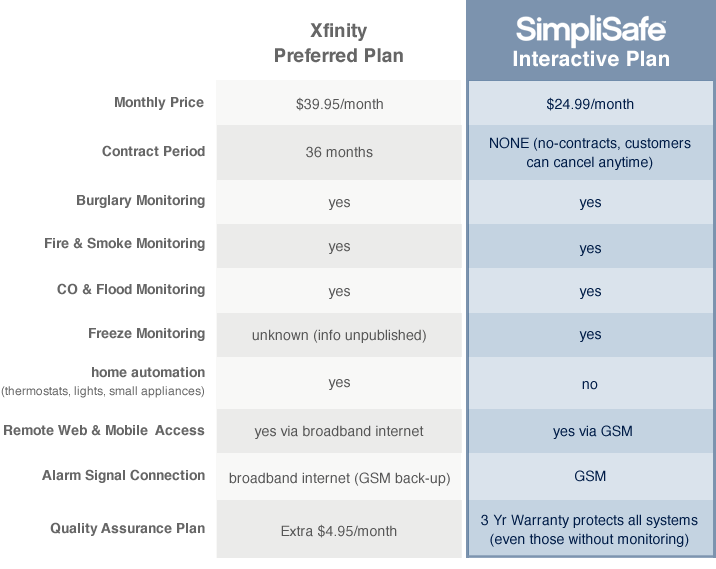 SimpliSafe offers pretty much all the same features as Xfinity Home Security minus home automation. If home automation is critically important to you, then Xfinity might be right for you, but we'd still urge you to find a no annual contract home automation option.
If you want all the interactive features plus 24/7 professional alarm monitoring, SimpliSafe offers a plan at $24.99/month. SimpliSafe offers alarm monitoring for almost half the price, with no annual contract.
We are biased (obviously), but we think that SimpliSafe is just a better deal.
Tell us what you think.