Customer Reviews
Below you'll find reviews that people have posted elsewhere on the web on sites like Amazon and Google Wallet. We've compiled them here so you can easily discover what hundreds of people are saying about us all over the web.
Please visit our Online Shop and discover the latest deals and packages available for your home security.
OUR AVERAGE RATING





total


124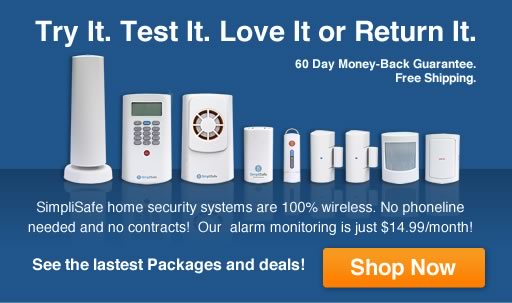 grog "simplisafe...exceeded my expectations.."
posted on
5/08/13
I do not review many products, but I feel that this alarm system deserves to be recognized for what it is... simple, effective and affordable. Installation was easy, although I did take the time to drill small holes and use the included screws for the window and door sensors. Everything works as advertised and I love the monthly monitoring program...$15.00 and NO contract!! Just buy it, install it, and put your mind at ease that your family, home and property will be safe.
---





Jay "Great Peace of Mind and User Friendly!"
posted on
4/19/13
I just installed my Simplisafe system in about an hour! I spent about 3 months looking at different alarm companies, but ultimately chose this one and bought it from their website directly. I purchased this system for two reasons:
1. It cost only $411 up front and I own it. No lease, etc. (11 door and window sensors, 2 motion sensors, and 3 remotes)
2. No monthly contract. I got the $25/mo plan so I can control it from my smartphone.

I opened the box and planned where to put each sensor. They installed easily on each of my windows and doors. Just peel and stick, and for the record, they stick very well! I tried to remove one to reposition it, and it was not easy. I installed a motion sensor in my garage and one in the middle of my house. I placed them about 7 feet off the floor and they pick me up every time I enter the room. I have a 50lb dog and was afraid of false alarms. I crawled on my hands and knees all over the house and never set it off. The setup on the website was extremely user friendly. I was able to adjust the volume and duration of the alarm, label each sensor so I know which has been breached, and choose if I want the sensors to alarm immediately or give time to enter my PIN code. I am even able to open my windows about 1 inch to allow my evap cooler to work without triggering an alarm. If someone tries to open the window any further, the alarm will activate (about 2 inches).

The alarm system uses T-Mobile to send a wireless signal to the alarm company. The only problem for some customers could be a poor cellular signal in their area. I checked the T-Mobile coverage map prior to purchasing my alarm and my area has excellent coverage. I would recommend doing the same. I have sent 6 test alarms to the monitoring company so far and each time I received a text message and a phone call in about 20-30 seconds indicating they received my test. Their plans range from $15-$25/month. I chose the $25 plan. I can monitor my alarm status and activate/deactivate it from my Android phone wherever I am. I receive a text message every time the alarm is turned on, turned off, breached, or if my motion sensors detect movement. My alarm base also chimes each time a door or window opens. This is really nice to make sure my dog does not run away if I don't close my door tightly and it blows open, etc. I can even set "secret alarms" to notify my phone of movement but not call the alarm company. I used this feature in my garage, so I know if someone walks in there but I don't want the police dispatched.

I will briefly explain how the system works, for those who aren't sure. When the alarm is in "Away" mode: When a entry or motion sensor is breached, the keypad will beep quietly until you enter your PIN. The base unit which contains the cellular unit remains quiet. If you fail to enter the PIN code within 30 seconds (you can adjust the delay on their website)the alarm base will activate the siren and immediately alert the alarm company. The alarm company will call you and ask for a password to make sure you are okay. If you do not answer the phone or give the right password, they will call the local police. If the base unit is damaged prior to the 30 second entry period, no alarm will be sent to the alarm company. Because of that, I hid the base out of sight and deactivated the light to buy some time. After the 30 seconds, they can smash it but the police are still coming. "Home" mode works the same way except it disables motion sensors to allow you to walk around the house.

Simplisafe also recently added smoke detectors ($30) and carbon monoxide detectors ($50) to their options. I plan on buying one of each in the near future to alert the fire dept of problems when I'm not home. So far, I am very pleased with this purchase. It gives me peace of mind when I'm away and when I'm asleep. I have not been able to trigger a false alarm yet, but I will update if I experience any problems. If I had to think of anything negative, it would be the keypad. It looks a little outdated, but I can live with that.

UPDATE - I just installed my smoke detector. It was very easy to add to my system. I just logged in and typed in the serial number. I pushed the test button and received a call within 15 seconds from the monitoring company informing me they received my test. I am still very happy with this system. I have not had any false alarms and every test I have done has elicited a phone call within seconds.
---





M C "Best alarm system and company, hand's down - bar none."
posted on
6/25/13
Upon moving in to my family's first new home in a beautiful, upscale and secure suburban neighborhood - a "safe" neighborhood - I knew that these are the types of homes that burglars target. I needed an alarm system, but wasn't interested in spending a lot of money. On the same hand, I wasn't going to buy junk. I wanted a quality system.

I also didn't want to drill holes in my walls, or pay for installation. I certainly wasn't going to sign any contracts. I researched and found a few wireless alarm systems and companies and began reading reviews and watching videos on YouTube.

It seemed that if everything people were saying was true, SimpliSafe was the easy to install, convenient, quality system at the best price for the quality, (I think there was one or two a few bucks cheaper, but they seem to be low quality junk) and looking at SimplieSafe's Facebook page (which I always do before I choose a new company to do business with) it seemed like their service after the sale was good. That's very important to me. For the majority of my professional career I have led and managed customer service teams in various environments and can be highly critical of service organizations. I know what great customer service looks like, so I can easily spot it when it's not there.

Well, it turns out that SimpliSafe truly was everything I hoped it to be. The system was priced really well. I needed 8 door and window sensors and a couple of motion sensors and got a great deal. I even got an extra keyfob to arm and disarm from my keychain. All at a great price. Installing the entire system, every door and window sensor and doing the setup took less than 30 minutes and everything works flawlessly. It is feature rich and high quality, but also very very simple to use. I feel secure when I am away, knowing that the extra loud siren which I also purchased is enough to scare off any intruder, and feel equally secure when I go to bed at night knowing if anyone tried to enter through my homes multiple points of entry, I'll know right away and more importantly - they'll know I know, and be gone.

I've had to ask some questions of their service team a couple of times since purchase and had my questions answered cheerfully and quickly each time.

I also like how, since their monitoring is "no contract", that I can turn it on if I ever choose, and then turn if off the next month if need be. I don't feel as though I have a need for monitoring. Maybe if I was in a higher crime neighborhood I would, but regardless I don't. That being said, I like that if we are going on a week or two vacation in the summer, I can turn the monitoring on, and the next month turn it off if I want just like that. Not to mention that the monitoring price is about the lowest in the industry and the reviews I've read of that particular service tell me all I need to know - they get the job done, notifying emergency services when appropriate - and at the end of the day, that's all that matters.

All in all, I would recommend this system to anyone in the market for home security. When it comes to a particular service, product, or company I ask this question: "Would I recommend it to my mother." With SimpliSafe, I wouldn't hesitate.
---





Jake "Very pleased!"
posted on
6/21/13
Simplisafe has been nothing but good to me. As a new home owner with a growing family, the idea if having a security system to protect my family and belongings was a most, but I was not crazy about signing a 2 yr contract at $70 bucks a month. Then I found simplisafe... No contracts, reasonable start up cost and low monthly service fee. Not to include exceptional customer service. I have had very few problems with my system over the 6 months I have had it, majority of them were user error and the others were easily fixed by talking to customer service. The one thing that really stood out was when I ordered the new smoke detector and simplisafe contacted me letting me know there we a problem with the unit. It stood out because usually the customer would be the calling complaint but simplisafe beat me to it and replace it free of charge.
Great system, and I will continue to suggest it to my friends and family.
---





BILL WELTY "Great system and GREAT price!"
posted on
6/20/13
Wow! I'll admit, I was a bit skeptical about going with SimpliSafe because the super-low price of monitoring I felt was too good to be true. I've had our system up and running since the end of May 2013 and thankfully no problems (as of today 6/20/13). I accidentally neglected to disarm the system before going downstairs this morning and my motion sensor* nailed me and tripped the alarm. I was right next to my downstairs keypad when it went off and was able to punch in my code within seconds of the alarm. I didn't think I'd get a call, but another second or two later my cell rang. It was SimpliSafe calling to see if all was well. Thanks, and if that's the "Johnny on the spot" service I can expect every time, then I'll be with SimpliSafe for a long time and will spread the word as often as I get the chance.

*I'm in a bi-level home and have my motion sensors set for away mode and supplement my door and window sensors with motion sensors on my lower level in the two wide open rooms on ground level. Our kitchen, living, and bed rooms are on the upper level and all the windows are well off the ground so I just did a door sensor on my front door. That's why my motion sensors were active while I was home; typically you would use the Home mode when at home and the Away mode when you go out. We use the Away mode for both overnight and when we go out for the added benefit of having the motion sensors providing backup cover for the 2 big rooms downstairs.
---





Al
posted on

6/20/13
One Months experience has been very positive.
---





AviElle' "Perfect for ANYONE"
posted on
6/18/13
I've been using SimpliSafe for almost a year now with just a few small problems. First, my base station wasn't sending me alerts but after a quick phone call, I was sent a replacement piece that has been fine ever since. Second, my panic button stopped working. I've been too busy to call and have it replaced, but besides that, I absolutely love the system!!! I get phone calls after my alarm has been set off (by the exterminator) and messages when my power goes out. It's a great system that works on my student budget!!
---




JD "Great system if you do your homework"
posted on
6/18/13
I installed this system on 06/14/2013. I did a bunch of research and found many of the online reviews to be dated and inaccurate since the new SimpliSafe2 came out in 2012. I absolutely love the system but if you don't think through your purchase you might be disappointed. Let's talk about the gotchya's:

1) Buy extra sirens! The base unit comes with an 85db siren and if it's the only one you have then the thieves will know EXACTLY where to find it and smash it before your 30 second entry delay is up. Extra sirens will beep on the entry delay and when in full alarm sounding mode they will drown out the base siren and the thieves will be less likely to find your base station and destroy it before the signal goes out to the monitoring company.
2) Buy extra motion sensors for rooms with your most vulnerable windows. If a thief smashes a window the entry sensor will never trip since it never moves. Security is always best in layers! I chose to add motion sensors for my doors as well so I have TWO layers of detection on all my most vulnerable entry points.
3) The cellular network used by SimpliSafe is T-Mobile. Make sure you've got a good signal. I'm in the middle of a major city so this is not an issue.
4) The wood screws that come in the package are not good for mounting entry sensors on steel/metal doors. You might need to make a trip to the hardware store for appropriate screws if you don't want to use the double sided sticky tape provided with the equipment.

Now let's move on to unadvertised, yet complained about, issues:
1) All new equipment can be mounted with screws. Take the extra time to screw things in. It will help prevent false alarms from stuff falling off doors and walls and the purpose of your system is to protect your life and property. The tape is good but screws will always be better.
2) The system is AMAZINGLY flexible and the website is awesome! Each sensor is unique and can be given a name. They can also be set to instantly trigger the alarm whether in home or away mode OR just send an SMS/E-mail when triggered. You can change the time of the entry delay for home or away mode. Sadly there is no exit delay for home mode which kinda sucks if you're leaving the house and your spouse and/or children are still inside. Eh, I have the $25 monitoring package so I can set home mode from my smart phone... The app is great too!
3) Only the base station talks to you. It would be nice if the keypads talked/beeped too.
4) The SMS & email alerts are fantastic. You can add as many as you like.
5) After it's all installed it takes the company 72 hours before they will begin to dispatch police for alarms. They call this a "Practice Mode". At first I was a bit irritated but after a couple days I learned to appreciate it. I accidentally triggered my alarm a few times because I forgot to take it out of home mode when I walked out a door. I've learned... thanks to the practice.

Conclusion:
SimpliSafe went out of their way to respond to customer complaints and address those issues in the SimpliSafe2. They also went out of their way to make the system easy to install and operate. It's really simple and intuitive. The setup CD had step by step instructions. I sent an e-mail with a question and they responded in a timely fashion. The website is incredibly easy to use and a very powerful control system for the alarm which was an unexpected surprise. Do your homework, be thoughtful about how and where you place your sensors, and you too should have a good experience with this system.
---





Yan
posted on

6/15/13
This is a 5 star review.
---





Cristian
posted on

6/13/13
This is a 5 star review.
---





Richard J. Buckland "RCBUCK" "Great system"
posted on
6/09/13
Unbelievably easy to install. Worked right out of the box five months ago and I have had no problems with it at all. My twenty pound dog is yet to set off a motion detector. Service was polite and efficient. I would recommend the system to anyone.
---





Jack B. Deaton "Great little system. Quick response to alarm"
posted on
6/09/13
Extremely simple to install. And very dependable so far.
Calls were answered extremely fast and impressed with how fast and courteous the staff was
---





John
posted on

6/08/13
SimpliSafe has a great product at a great price. Well worth the investment.
---





M. Spencer "Easy To Install User Friendly"
posted on
6/07/13
Very easy to install. Works great. I love the fact that no contract is required. Very user friendly. Love it that you can arm and disarm the system with a keychain. Highly recommend it.
---





AllenP
posted on

6/03/13
This is a 5 star review.
---





S. King
posted on

5/31/13
Order was handled perfectly and the quality of the product is phenomenal. Do not waste time buying alarm systems from other companies. This company has it all for a fraction of the cost.
---





Mark
posted on

5/29/13
Great transaction and service
---



Treehugger "Thomas J" "Customer service"
posted on
5/27/13
I bought the system because I like the idea of not having to use a monitoring system, (neighbors live close by and we watch out for each other).
So I ordered two more entry monitors, installed them and tested them. Now I show an entry port is open, NOT.
The key pad does not show what entry port is open. Tested them all and everything is closed.
I called their 1 800 number at 7:15 PM. It's closed, they will get back to me the next business day.
Nice, I am heading for work and can't set the alarm.
Is this the way they get you to spend the extra money on the monitoring system?
---





thevidiot
posted on

5/26/13
I was quite impressed with the simplicity of the installation. Everything connected and worked right out of the box! The system is working fine and seems to have me well covered for my security needs. I have held off installing a system for several years and increased burglaries in my neighborhood pointed out the necessity of having some protection and monitoring. I would definitely use this system again in the future.
---





Allen
posted on

5/23/13
Good service. Great product.
---