DIY Home Security from SimpliSafe
Get complete control over your home security, at a unbeatable price, with no long-term contract. Protect yourself in minutes with our unmatched do-it-yourself security system.
Same Day Protection: Install the system on your time, in no time. Learn more about the installation and see how easy it is for yourself.
Save $1577 Over 3 Years: With our do-it-yourself security system you save on installation and monitoring. Who knew saving money could be this easy?
More secure, less expensive. There are no phone lines to cut, and the sensors are battery operated.
Install in Minutes... See How!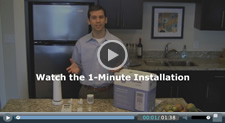 ---


Warner - Home Security in Tampa, FL
"I've been using DIY home security systems for 20 years now. Yours is a cut above the rest. What's been missing in the other systems is that the Emergency Monitoring Services haven't been easily integrated. I'd buy the alarm at Radio Shack and then have to contract someone to do the monitoring. I've already referred your product to several of my friends. "

Pamela - Rental Security in Lincoln, NE
"We rent this house so I did some research on wireless systems and one quote I got was for over $800!!!!! My husband travels often and feeling safe in our home is priority number one. I found Simplisafe and was so pleasantly surprised! Not only was the system affordable, but customer service and the monitoring service have been stellar! Being military we can expect to move every 3-4 years. The fact that we can take the system with us is fabulous! Even when we do decide to buy our own house we are not going to waste our money on an expensive wired installed system."

Ryan - Apartment Security in Cleveland, OH
"We just got our system installed! Incredibly user friendly, setup was a breeze! I can't believe I'm the first person I know to get one! I'm recommending to everyone!! Thank you guys so much for an incredible product!"

Jeremiah - Home Security in Houston, TX
"It is easy to lose faith in the sea of un-reliable companies that are flooding the consumer marketplace and SimpliSafe has renewed the concept of a REPUTABLE company. I will go out of my way to recommend these guys to anyone I know! Thank you to EVERYONE that was involved in taking care of my situation."