Atlanta Home Security
Did you know in 2010 alone, there were 8,016 of burglaries that occurred in the city of Atlanta? According to the 2010 Uniformed Crime Report this is a true statistic. Burglar alarms could have helped drive this number down, but sadly many alarm companies make it very burdensome to guard your home due to long term contracts, installation, etc.
Don't sign that long term contract with the alarm company until you've read this…
Here's what you can expect to find on this page:
Land the best bargain on Atlanta Home Security
When it comes to choosing a home alarm company, Atlanta provides you with a lot of options. How do you know where to find the best deal? Unfortunately you will have to call around, but this will be no easy task. Most alarm companies are hesitant to provide pricing over the phone without a home visit. You have better things to do with your time…
We made it really easy for you. You can utilize our free price calculator to obtain an aggressive price quote. Alarm companies will not be so hesitant to provide you pricing over the phone when they know you are equipped with a competitive price.
Price Calculator
Atlanta Alarm Fees

(some facts)
71%



$1.5 Billion



$1.5 Million
Of all emergency calls from burglar alarm systems in Atlanta in 2010 were false alarms.
The amount false burglar alarms cost police departments nationwide.
False burglar alarms fines collected from 2000-2004.
Atlanta Security Tips
Download a free guide that will help you secure your home against burglary.
Download your free guide
Atlanta Burglar Alarm
24-hour
Alarm Monitoring just $14.99/month
No Contracts!
Atlanta's Top Cop

Who's My Police Chief?
George N. Turner
Chief George N. Turner became a member of the Atlanta Police Department on July 24, 1981.
Since that time he has worked his way through the ranks and is now assigned as the Chief of Police.
Chief Turner has received numerous commendations and awards from the Secret Service and the Federal Bureau of Investigation for his work on protective details with the various Presidents, other high-level officials and heads of state.
Atlanta Home Security Videos
False Burglar Alarm 101
Atlanta, Georgia
What defines a false alarm?
A false alarm can have a few meanings:
An alarm event that consequents in a police dispatch that is not terminated prior to the appearance of police. Also, the outcome of police failing to find evidence of a forced entry or signs of burglary activity.
An alarm event that is triggered neglectfully or unintentionally due to defective, faulty, or poorly installed or maintained device.
An alarm event that is triggered due to a result of weather or power outage circumstances.
4 Tips to Avoid False Alarms
Educate yourself and others who will be using the alarm on the proper operation of the burglar alarm.
Avoid mounting motion sensors near heat ducts, fans, pets, etc.
Train yourself to terminate an unintended alarm as well as others in your home that will be using the alarm system.
Always check to see if all doors and windows are closed before leaving your home.
City of Atlanta False Alarm Fee Schedule
| | | | |
| --- | --- | --- | --- |
| Free | First false alarm is FREE | $300 | 4th false alarm |
| $100 | 2nd false alarm. | $750 | 5th & 6th false alarm. |
| $200 | 3rd false alarm. | $1,000 | Any subsequent false alarm. |
Atlanta, Georgia Crime Statistics - 2010
| | | | |
| --- | --- | --- | --- |
| Atlanta Crime Statistics | | Georgia Crime Statistics | |
| Atlanta Population | 536,472 | Georgia Population | 9,687,653 |
| Atlanta Violent Crime | 5,749 | Georgia Violent Crime | 39,072 |
| Atlanta Murder | 93 | Georgia Murder | 558 |
| Atlanta Forcible Rape | 89 | Georgia Forcible Rape | 2,093 |
| Atlanta Assault | 3,405 | Georgia Assault | 21,724 |
| Atlanta Robbery | 1,926 | Georgia Robbery | 24,048 |
| Atlanta Property Crime | 30,800 | Georgia Property Crime | 352,679 |
| Atlanta Burglary | 8,016 | Georgia Burglary | 96,723 |
| Atlanta Larceny-theft | 17,741 | Georgia Larceny-theft | 225,651 |
Atlanta Sex Offender Map
Get in the know. One of the first lines of defense in home security is knowing the area you live in. There are a lot of sexual predators out there and knowing where they live and work may decide where you prefer to live.
---
Nervous a Sex Offender Lives in your Neighborhood?
Does it make you anxious when your kids walk home from school? Try Out Google Maps..
You can use Google Maps to sketch out a path that lowers the possibility of your kids running into a sex offender.
Keep Your Cool & Don't Flip Out
Keep in mind that old saying "Don't bark up the wrong tree."
The Atlanta PD provides a harsh warning to anyone using their sex offender registry:

THE INFORMATION PROVIDED ON THIS SITE IS PROVIDED AS A PUBLIC SERVICE ONLY AND SHOULD NOT BE USED TO THREATEN, INTIMIDATE, OR HARASS. MISUSE OF THIS INFORMATION MAY RESULT IN CRIMINAL PROSECUTION. Read more…
Atlanta Crime Map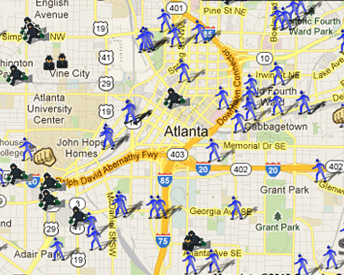 Does Crime Surround Me?
Checking the crime in your neighborhood has never been so easy. You can check the crime risk in your neighborhood by checking your local crime map
Atlanta has several neighborhoods such as: Douglasville, Lithia Springs, and Marietta. These are areas where crime is commonly reported
For real-time crime information in your area, visit the Atlanta Crime Maps..
How to Report a Crime in Atlanta, Georgia
Remember: You should never report an emergency, a crime in progress or any type of injury using the Atlanta PD "Crime Stoppers" tip program. For emergencies, call 9-1-1. For any other type of incident that requires the response of a police officer, call 404-614-6544
The Atlanta PD "Crime Stopper" Program
(Warning: Making a false report is a crime)
Crime Stoppers Greater Atlanta engages the entire community – citizens, media and law enforcement – to work towards making communities safer by identifying the people committing crimes and getting them off the streets.
The anonymous information provided through the Crime Stoppers helps law enforcement in their investigations and can play a major role in the apprehension of criminals and in securing convictions.
How Crime Stopper Atlanta Works
Crime Stoppers Atlanta uses a collaborative, multimedia approach to solving crime. The concept is designed to gather information about unsolved crimes through the cooperation of the local community, law enforcement and media.
When an individual has information about the Crime of the Week, any other unsolved crimes, or information about a wanted fugitive, he or she is encouraged to call 404-577-TIPS (8477), text CSA and information to CRIMES, or e-mail the anonymous information using the online form at www.crimestoppersatlanta.org. The tip can result in a reward up to $2,000 to the individual who supplied the information needed to solve the crime.
How to Submit a Tip
There's 3 ways you can submit a tip to Atlanta's Crime Stoppers:
Call 404-577-TIPS (8477)
Text CSA Tip to Crimes (274637)
Submit a tip online here…
For your safety, after submitting your tip you should always delete all text messages to and from 274637 from your text message inbox and outbox.
For more information regarding Atlanta's Crime Stoppers Program, click here…