Washington DC Home Security
According to the FBI, home burglaries occur every 12 seconds in the United States. Washington D.C alone had 4,231 burglaries reported in 2010. Regrettably, a large number of these home burglaries could have been prevented with the help of a home burglary system. Unfortunately, most of the alarm companies make it very complicated to defend your home due to long term commitments, high costs, etc.
Before obligating to a long term commitment with an alarm company, make sure you read this…
Here's some of the information you will find on this page….
How to Strike The Best Deal on Washington D.C. Home Security
Many of the home alarm companies in Washington D.C. will avoid giving you pricing over the phone. Many will claim a home appointment will be required to provide pricing. However, this is not true…
Don't worry; we can help by providing you with a bargaining chip that will help you land the best bargain. Check out our free alarm price calculator to compare pricing with other home security companies. Once they know you've done your research, be prepared to hear their best price over the phone!
Price Calculator
Washington Alarm Fees

(some facts)
$11.8 Million


$7.9 Million



95%
Dollars spent—Washington Police responding to burglar alarms in 2007.
Revenue generated by alarm registration fees and false alarm fines.
The percentage of false burglar alarms in Washington in 2007.
Washington Security Tips
Download a free guide that will help you secure your home against burglary.
Download your free guide
Washington Burglar Alarm
24-hour
Alarm Monitoring just $14.99/month
No Contracts!
Washington's Top Cop

Who's My Police Chief?
Cathy L. Lanier

Cathy L. Lanier joined the Washington D.C. Metro Police Department in 1990
Cathy L. Lanier was unanimously confirmed as the Chief of Police by the Council of the District of Columbia on April 3, 2007.
Chief Lanier is a graduate of the FBI National Academy and the Federal Drug Enforcement Administration's Drug Unit commanders Academy.
Washington Home Security Videos
You're Inside Source into False Burglar Alarms
Washington D.C.
What's Classified as a False Burglar Alarm?
An alarm signal that results in a police dispatch before the alarm signal is cancelled. Also, the result of police finding any evidence of forced entry.
An alarm signal that is set off due to improperly installed equipment, user error, and defective equipment.
An alarm signal that is triggered due to the effect of weather conditions, and power outages.
Here's 4 Suggestions to Help you Avoid False Burglar Alarms
Train yourself and family members on how to properly operate your burglar alarm.
Steer clear of placing motion sensors around heating ducts, pets, fans, etc.
Practice how to cancel an accidental alarm with anyone who will be using the burglar alarm.
Make sure to check all windows and doors are closed when getting ready to leave your home.
Washington D.C. Police False Alarm Fee
According to the Washington D.C. Consumer & Regulatory Affairs there is no penalty for false burglar alarms.
Washington D.C. Crime Statistics - 2010
| | |
| --- | --- |
| Washington D.C. Crime Statistics | |
| Washington D.C. Population | 601,723 |
| Washington D.C Violent Crime | 8,004 |
| Washington D.C Murder | 132 |
| Washington D.C Forcible Rape | 187 |
| Washington D.C Assault | 3,360 |
| Washington D.C Robbery | 4,325 |
| Washington D.C Property Crime | 28,756 |
| Washington D.C Burglary | 4,231 |
| Washington D.C Larceny-theft | 19,489 |
Washington D.C. Sex Offender Map
Knowing the community you live in is a major part of your home security. Washington D.C. is a very robust city and determining where you live, knowing the path you kids walk to school is very imperative.
---
What To Do If A Sex Offender Lives Near You
Ever wonder about the route your kids walk to school? Try out Google Maps.
Google Maps can be used to plan out a course for your children to walk safely to and from school and avoid the areas where it's probable to run into a sex offender.
Keep Your Cool & Don't Save the Day
Don't you remember your mother saying "don't bark up the wrong tree."
The Washington D.C. Metropolitan Police Department issues a harsh warning to anyone using their sex offender registry:

The MPD presumes that information obtained from the sex offender registry will be used responsibly to promote public safety. Unlawful use of sex offender registry information to threaten, intimidate, harass, or injure a registered sex offender will not be tolerated and will be prosecuted to the full extent of the law.Read more…
Washington D.C. Crime Map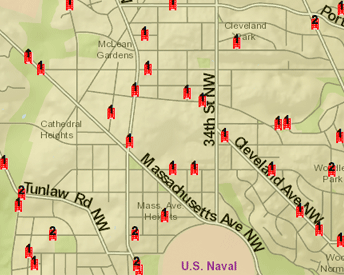 Is there crime in my neighborhood?
Crime is everywhere, but how do you know what types of crimes are being reported in your neighborhood? Check out the crime map below to give you an idea of what crimes are being committed in your backyard.
Washington D.C. has many neighborhoods such as: Downtown, Greenspoint, Memorial City, Spring Beach, Westchase and Upper Kirby. Most crimes are committed in these areas.
For up-to-the-minute crime reporting visit the Washington PD interactive crime map.
How to Report a Crime in Washington D.C.
Remember: You should never report an emergency, a crime in progress or any type of injury using the Washington D.C. PD online form. For emergencies, call 9-1-1. For any other situation that requires the response of a police officer, call 202-727-9099.
Types of Crime you can report online in Washington D.C.
(Warning: Making a false report is a crime)
The MPD Online Reporting Tool offers a way for you to make quick reports that do not necessarily require a police officer to witness or take the information from you. You can report the following types of incidents:
Lost property
Lost vehicle tags
Theft/theft from auto
Destruction of property
Damage to property
How to File a Report
Here are the steps users will follow to file a report online:
Click on the Online Reporting Tool to choose your event type and start your report. Name and email address are required to ensure that all complainants may be contacted for further information if necessary.
Follow the prompts at the bottom of each screen to complete your report.
When you are done with your report, you will be asked to submit it for MPD review. MPD will then email you a temporary case number.
Within two (2) business days, MPD will review the report. If we have questions, we will contact you. If we have to leave a voice mail message, we will also email you. Once we fully approve the report, we will email you a final case number and a link to print out the report for your records.
Warning Concerning Making False Police Reports
Persons submitting online police reports to the Metropolitan Police Department (MPD) are reminded that it is a crime to make a false or fictitious police report, and upon conviction, persons may be subject to a fine not to exceed $300 or imprisonment not to exceed 30 days. (See D.C. Official Code § 5-117.05)
Click here to access Washington DC's Metropolitan Police Online Reporting Tool
Washington D.C. Crime News