Alarm Systems from SimpliSafe: Cellular, and Secure
High security for fifty cents a day; get your SimpliSafe alarm system today and sleep a little easier tomorrow.
DIY Installation: We ship all systems pre-programmed and ready-to-go out of the box. Simply peel off the super-strong 3M command strip from the back of the sensor and adhere it to the wall. That's it!
Portability: You own it. There's no contract to sign that requires you stay in your house for 5, sometimes even 10, years. If you move, take the system with you.
UL Certified Central Station: You're protected 24/7 by our central station through the cellular connection installed in every unit, and don't worry; there's no additional charge for the cellular connection.
Monitoring for $15 a month: There's no contract, and you're free to cancel at any time. Pay for the time you need and not a day more.
Alarm Systems shop
Install in Minutes... See How!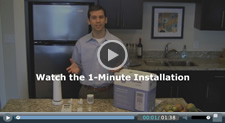 ---


Joshua - Home Security in Tempe, AZ
"Having just moved from Phoenix I'm used to using a security system. I got simplisafe and installed it in a day. The alarm company helped me through the whole thing."

Jennie - Apartment Security in Omaha, NE
"I was more scared of my neighbors getting into my condo than anyone from the outside so I figured I was safe from a break-in. I was completely WRONG! I almost lost EVERYTHING! I got an alarm system from simplisafe and I can finally leave my place and know they have my stuff protected. It was the best buy I ever made!"

Clark - Residential Security in New York, NY
"The new york times did a story on alarm systems and that's how I found simplisafe. I bought it because the article was clear, I don't need to have an installer come in to get security. Had the system for months now with no problems. Thank you simplisafe!"

Dionne - Home Security in Olympia, WA
"My son lives at home and just got deployed for the airforce and it's the first time I've ever been alone at home. He bought an alarm system for the house for when he's away from SimpliSafe. My favorite feature is the panic button on the keyfob. I carry it with me everywhere!!!"
Getting the Perfect Alarm System for your Home
We know that each and every house is different. Often, pre-bundled packages just don't provide adequate protection. All SimpliSafe home security systems are customizable to meet the specific needs of your home.
Here's a guide to help you choose the best security system and get just what you need. The good news is SimpliSafe is so easily customized that adding extra sensors later is a breeze.
1. Make a quick floor plan of the first floor of your house.
2. Count all the vulnerable entry points on the first floor – doors and windows that can be reached from the ground outside. For maximum protection get Entry Sensors for all vulnerable entrances.
3. Get at least 1 Motion Sensor for the first floor. It's a valuable second layer of defense against a glass break entry. Consider the common areas of your house that have valuables, like your living room and dining rooms, or study with computer equipment. Add an extra Motion Sensor for more coverage. In the example above, the house is well protected with 2 Motion Sensors.
There's much more still to come! Click for more information on getting the best alarm system for your home.