Make Home Feel Safe Again
24/7 Protection. Exceptional Savings. No Annual Contracts.
Superior Protection. Introducing 24/7 protection you can truly trust to keep your home safe. SimpliSafe is an award-winning home security system—built by a Harvard-educated engineer. It protects your home with wireless technology. SimpliSafe is so remarkably effective a Wisconsin police department uses it to catch criminals.
see packages and prices
GET YOUR FREE KEYCHAIN REMOTE
Award-Winning Home Security

Tech experts at CNET call SimpliSafe "better, smarter home security... an outstanding value." Why? We got rid of everything that makes most home security such a pain. There's no annual contracts, no middlemen, and no landline needed. You get superior protection—for less than ½ what traditional companies charge.
Get more security, more freedom, and more savings. That's SimpliSafe.
"Protecting your family is important, but don't ever sign a long-term contract. Do it the right way with SimpliSafe. They are the good guys!"
Dave Ramsey America's trusted voice on money
This is SimpliCam.
We protect over a million Americans with our award-winning security system. This is our security camera. 24/7 HD video. Intruder and motion alerts. All built by people who know security. Meet SimpliCam.
Learn More
SimpliSafe Features at a Glance
24/7 Professional Monitoring
+ Police Dispatch
Security specialists guard your home
around-the-clock. Our monitoring
service was named Central Station of the
Year for its speed and reliability (2014).
No Long-Term Contracts
The ultimate guarantee. We earn
your business everyday. We're so
confident in our service that
you're free to leave any time.
Easy Set-Up
No drilling, no tools, no
installation fees. Anyone can set
up SimpliSafe in under an hour.
Works in homes of any size.
Triple Safeguard
SimpliSafe works even if an intruder
smashes your keypad, cuts your
home phone line, or if you lose
power. Its wire free connection
sends alerts in seconds.
Control From Your Phone
Control your system from
anywhere with your
smartphone or laptop, plus
get customizable text alerts.
Pet Friendly Protection
Our motion sensors are designed
to detect the specific heat
signature of humans, so even the
furriest members of your family
can enjoy 24/7 home security.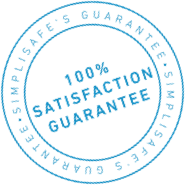 Built to Last
We're so confident in the quality of our home security and service that we back it with three 100% satisfaction guarantees.
No Long-Term Contracts SimpliSafe is backed by the strongest possible guarantee: no long-term contract. We fully stand behind our product and service, which is why we give you the freedom to leave anytime.
Complete Money-Back Guarantee Use SimpliSafe for two full months. If you aren't completely satisfied, return it for a full refund. We'll even pay for return shipping.
Perfect Fit Guarantee We're committed to providing you with the best security system for your home and needs. Return or add any sensors within two months of purchasing with free shipping both ways.
Protecting over 1 MILLION Americans

Over 40,000 Five Star Reviews

CNET RATED 10/10 Usability + 
Performance
(2/14/14)
Total Control From
Anywhere in the World
Free App for iPhone and Android smartphones. Take control of your security with a more sophisticated personal Command Center.
The New York Times describes SimpliSafe alarms as
"All the bells and whistles for a lot less money."
Some Alarms Have Huge
Commitments. Ours don't.
Many alarm companies have huge hidden fees. They advertise their alarms as "from $99." But then they lock you in long-term contracts totaling thousands of dollars. SimpliSafe has no hidden costs and no commitments.
36 Months at $42.99/month
3 Things to Avoid When
Choosing Home Security
OLD WIRED SYSTEMS
Traditional alarm companies want to put wires in
your walls because they know that installation is
difficult and expensive. So is ripping the wires out
when you want to cancel service.
PAINFUL LONG-TERM CONTRACTS
The moment you let a traditional alarm company
put a system into your home, you're typically
locked into a three-year contract with a
commitment of $1,547 (or more!).
SKY-HIGH COSTS
Alarm companies will tell you they have "free"
equipment, then charge you $42.99/month for
monitoring, $12/month for a cellular connection,
and $24/month for a landline connection.
A Better Way to
Protect Your Home
EASY WIRELESS SET-UP
With SimpliSafe, there's no tools, no wiring and no
installation fees. Anyone can set it up in under an
hour. Just plug it in, place your sensors and your
home's protected.
NO LONG-TERM CONTRACTS
SimpliSafe never locks you in—you're free to leave
any time. We work hard to earn your business every
day with outstanding security, fair prices and
legendary customer support.
FAIR PRICES
Our professional monitoring service is only $14.99/month
and was named Central Station of the Year (2014) for its
speed and effectiveness. We're able to offer the same
high quality protection for less because we eliminated
expensive middlemen like dealers and salesmen.
Built for the Unexpected

From power outages to snipped phone lines,
we've got you covered. Discover SimpliSafe's
four built-in safe guards…

Power Outage Protection

If your home loses power,
SimpliSafe doesn't bat an eye. The
built-in backup battery goes on
protecting you for a full 24 hours,
and recharges automatically when
power is restored.

No Vulnerable Landline

One in five intruders cut home landline
before entering. But this isn't a problem
for SimpliSafe's 100% wireless
connection to dispatch.

Multiple Layers of Protection

SimpliSafe's six central monitoring
stations blanket your home with
layers of protection. No matter
where you are, you're protected
24/7, 365 days a year.

Smash-safe Keypad

If an intruder thinks they can
disable your system by
breaking the keypad, they're
sorely mistaken. The police
will still be alerted, no matter
what happens to the keypad.
SimpliSafe is recommended
by ABC, Fox News, NBC & more!
"No installation, no annual contracts,
very smart."
"Everything is included, and it's portable
so if you change apartments, you can just
bring it with you."
"David vs Goliath, SimpliSafe vs ADT: SimpliSafe aims to upstage their larger rivals by giving
consumers what they really want. Even without
fancy marketing, word is spreading." see review
SimpliSafe is not for you if...
1
Your home is larger than 20,000 square feet (about the size of a football field)—or if it has more than 50 windows on the first floor—you would probably benefit from a system that can handle a huge number of sensors. Our advice would be to go to a traditional contract security company —and keep in mind the things we've warned you about.
2
You run a large commercial property such as a shopping mall—you would probably benefit from a system that has CCTV or security guards, in which case you should probably go to one of the traditional contract security companies—and keep in mind the things we've warned you about.
However, if you're one of the 95% of people who don't run a large commercial property, then SimpliSafe is probably the best choice for you. If you're in any doubt, contact one of our security consultants at 1-888-957-4675 for free friendly advice.
Protect Your Whole
House in Under An Hour
No drilling, no wiring, no tools, —See How! Anyone can set up SimpliSafe in under an hour—no tools needed. Just open the box, plug it in, and start protecting your home with award winning home security.