Complete Burglar Alarms to Protect Your Home and Family
Your home will be protected by our top-of-the-line burglar alarm in an instant, without the bloated price-tag.
Instant protection! Your entire home will be secured in minutes, without a hit to your wallet. Learn more about the installation and see how easy it is for yourself
Our system is more secure! There's no phone line to cut to disable our burglar alarms, so there's no fear when you secure your home with SimpliSafe
No hidden fees, no long term contracts, and absolutely no commitment. Pay for monitoring when you need it
$14.99 monitoring! You won't find cellular monitoring at our prices anywhere else. Saving more than 300 dollars each year has never been easier
Burglar Alarms shop
Install in Minutes... See How!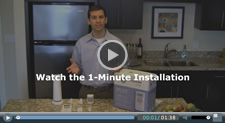 ---


Clyde - Installed the SimpliSafe Burglar Alarm System in Houston, TX
"I now see why Clark Howard feels so good about your product. He talked about it for about 10 minutes on his radio show last week. I was driving and was so impressed I wrote your e-mail address down on a napkin in my car."

Diane - Uses the SimpliSafe Burglar Alarm in New York, NY
"My daughter's system is working GREAT! What a comfort to know she's got a guardian in a big city! Thank you!."

Blake - Home Alarm Customer in Seattle, WA
"I lived in a large house and had ADT for 8 years. My family and I recently relocated out of state and are now in a townhouse for the time being. I did my homework and searched high and low for a good burlgar alarm system and my sister in law had recently purchased Simplisafe. I am a huge techy and went to her place to see it and kept looking for a flaw but could never find one! I recently purchased the system for our place and it is an awesome system!"
Austin - Installed the SimpliSafe Wireless Burglar Alarm in Phoenix, AZ
"My family has owned a Simpli-Safe System for about a year now. We live in a 3400 Sq. foot home and even in that space the system still works amazing. We absolutly love it!"
How to Select Your Alarm System:
1. Make sure the system has a deterrent: loud alarms, window decals, and yard signs are your first line of defense against potential burglars.
2. Your system must be monitored! Self-monitoring may seem like a good, low-cost option but you're not 24/7 (even if it feels like it sometimes!). A UL certified central station monitoring center ensures quick and efficient police dispatch if you're ever in need.
3. Redundancies are a must. Always make sure that you're safe from even a smart burglar. If monitoring with a phone-line use a cellular backup. Ensure your system has a good, long, battery backup; wired systems tend to back-up for 8 hours or less!
4. Use a system that can protect all potential entries. Space detection is your best friend; when you're away your motion sensors provide the most security. For at home uses, door and window contacts are necessary on all entry ways. Use a panic button for your last line of defense.