Shop

Easy Alarm Installation
Plug & Play: all your sensors arrive pre-programmed, batteries installed and adhesive strips ready-mounted.
Voice prompted start-up
Don't worry, we'll let you know that everything is working. At start-up, our Base Station provides a friendly greeting and places the system in test mode. As you install your sensors you can test them and the Base will verbally affirm that the sensor has transmitted a signal.
Start-up greeting
Sorry, flash is not available.
Pull battery activation strips
Your sensor's batteries stay fresh with our battery strips, just pull on the tab and your sensor is activated.
Peel and stick
We ship your sensors with 3M command strips ready mounted. This amazing adhesive provides superior holding power and a clean stretch removal that won't damage your walls.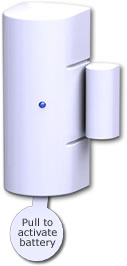 batteries pre-installed
adhesive tape pre-applied on the back
Customer review: Pamela D., Albuquerque NM

"The nice folks at simplisafe were very patient with me as I asked a lot of questions before getting a custom system. I couldn't be happier with it. It was very easy to install - the instructions are amazingly clear - and they have thought through every detail. It's difficult to express just how good it makes me feel to hear that "alarm on" when I come home at night after a long day at work. Thank you!"