Shop

Expand & Customize Your Home Security System
We put the control in your hands with our easy to expand system and customizable settings.
Expandable - up to 41 components
Getting and installing a custom alarm system in your home has never been so easy. You choose the components you need and we'll pre-program your custom home security system for you. All you need to do is peel and stick the sensors on your doors and windows and the keypad by your front door.
Watch the demo
Add more sensors at any time
With entirely wireless sensors and controls, adding new components to you custom home security system is easy, so your system can grow with your needs. Every component comes with batteries pre-installed and 3M adhesive tape pre-applied, making installing a new sensor hassle-free.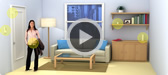 Customize with our easy set-up wizard
The good news is that you'll probably never need to use the Easy Set-up Wizard, since the system works intuitively from the start. The great news is that if you want to customize your system, you have control over the operation of each sensor in your system and you can customize settings such as alarm duration, volume levels, chimes, and much more. It just takes three easy steps:
Step 1: Plug your Keychain Remote into your computer
Step 2: Customize your settings with the Easy Set-up Wizard
Step 3: Sync your Keychain Remote with your Base Station
USB flash drive