Shop

The Most Affordable Home Security System
SimpliSafe is affordable, making it the smart choice in home security.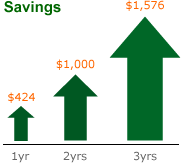 With SimpliSafe You Save...a lot.
Savings after 1 year: $425
Savings after 3 years: $1577
Savings add up quickly when compared to traditional
security companies like ADT and Brinks. Here's how:
SimpliSafe
The Other Guys
Up Front Cost
$229
$299 ($99 after mail-in rebate)
Monthly Monitoring Fee
$14.99


Cellular monitoring

$42.99


Phone line required

Phone Line Expense
$0.00
$19.99/month
No Contract
Wireless Keypad
Renters Welcome
Customer review: John T., New Jersey

"I lived in a large house and had ADT for 8 years. My family and I recently relocated out of state and are now in a townhouse for the time being. I did my homework and searched high and low for a good alarm system and my sister in law had recently purchased SimpliSafe. I am a huge techy and went to her place to see it and kept looking for a flaw but could never find one! I recently purchased the system for our place and it is an awesome system! I no longer have a home phone (who needs one anymore with cell phones!!) plus we use magicjack. I wasn't sure how it would transmit wirelessly but bam it works like a charm! I have been testing the heck out of it and it works great! I love how I can see all of my alarm events online. I am looking forward to the additional siren. The louder the better to scare off anyone!! I wanted to post this to anyone that was considering this fabulous system. Take it from someone who has had the more expensive services (ADT) and who has done their homework. You will not find a better alarm system or monitoring, especially for the price! ADT was $40 a month and SimpliSafe is just $14.99! You can't beat that. Great job SimpliSafe, I look forward to a long relationship with you guys!!"