Shop

Wireless Sensors
SimpliSafe protects you and your space with six easily installed components.
SimpliSafe Base Station
Our Base Station is the brains of your security system. It regularly checks the status of your wireless sensors and uses its cellular unit to call our Emergency Dispatch Center in the event of an alarm.
Wireless Range
All SimpliSafe components are battery-powered and communicate wirelessly with the Base Station, with a 400-500 foot range.

cellular module inside
sensor locator and controller
85 decibel siren
built-in rechargeable backup battery
Wireless Keypad
Best Keypad in the Industry
Arm your system in HOME mode and your Entry Sensors protect you. When you're headed out, simply press AWAY and your motion sensors add a second line of defense against burglars. Unlike other keypads, ours is wireless and can easily hang right by your front door.
Handy Menu Options:
Edit System Settings and Send Us Test Signals
With our keypad you can also easily change your Master PIN, add & remove sensors, and send us test signals whenever you want to be reassured that you're safe.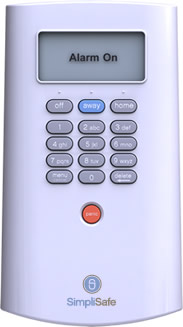 backlit LCD display
home & away modes
Wireless Motion Sensors
Full Room Coverage
Detects motion within 30 feet, for full room coverage. You can place motion sensors in corners for maximum range. The sensor provides 90 degrees of horizontal protection and 45 degrees looking down.
Pet Friendly
Your dogs and cats under 50 lbs won't trigger the alarm when you're away. We've designed the sensor to be less sensitive to motion close to the ground. For larger pets, consult us to design a custom placement.
Flexible Install
The sensor is shaped to stand on a shelf, adhere to a wall, or fit in a corner for maximum room coverage. Set the sensor to be active only in "away" mode (so that you won't trigger it while you're home) or both "home" and "away" modes (for rooms that you want covered with a motion sensor while you're home).
Wireless Entry Sensors
Protect Your Doors and Windows
Install entry sensors on all types of windows and doors as your first line of defense. When the magnet moves more than 2 inches away from the sensor, it tri