SimpliSafe sensors are famously easy to install: just peel and stick, and you're good to go. But did you know that—if you'd prefer—you can affix your sensors more firmly? If you don't mind a couple of small holes in your walls, screwing in your sensors can make them more stable and help prevent false alarms. It's a quick and easy process, and removing the sensor is still a snap. We'll show you how to do it right here.
You'll need:
Your SimpliSafe sensor. (We used an entry sensor for our demonstration because it has two parts and so is slightly more complex.)
Large and small screws (included in sensor box).
A screwdriver or electric drill.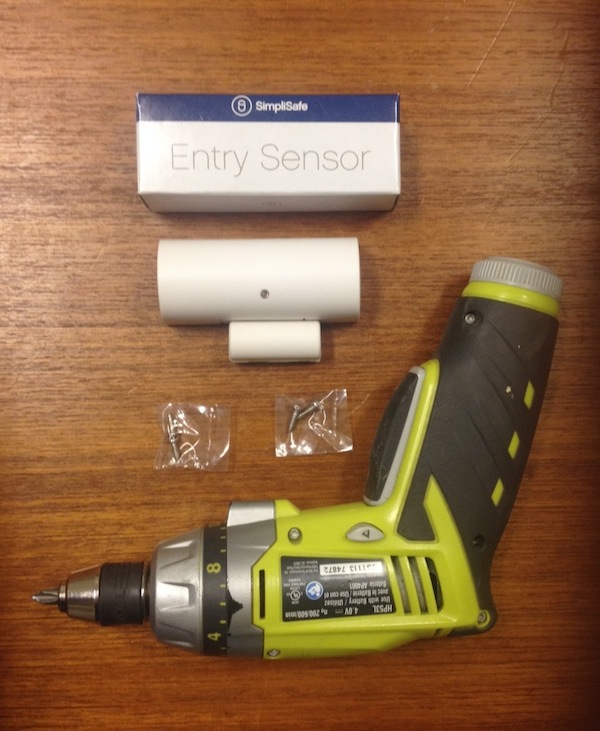 **Note: Do not screw sensors into materials that don't support screws, such as metal or concrete.**
Take your entry sensor and pull off the battery tab.
Remove the backing from your sensor's adhesive strip. Line it up on your door or windowframe, making sure the notches are facing in the direction where you want to place the magnet. Affix your sensor by pressing firmly.

Remove your sensor from the backplate by sliding it in the direction of the blue arrow.

Screw the backplate to the wall, using the 2 large screws.

Slide the sensor back onto the backplate. You're halfway there!
Now take your magnet. Once again, remove the backing strip from the adhesive. Line it up across from the notches on the entry sensor, on the window or door.

Remove the magnet from its backplate by sliding it in the direction of the arrows on its side.

Screw the backplate to the wall, using the 2 small screws this time.
Slide the magnet back into its backplate. You're done!
TO REMOVE SCREWED-IN SENSORS:
Remove your entry sensor by sliding it off the backplate.
Remove the magnet by sliding it off the backplate.

Unscrew the two backplates.
Hold your entry sensor backplate with one hand. Use the other hand to pull the adhesive removal tag in the direction of the gray arrow.
To remove magnet backplate, it's easiest to slide the magnet back onto it's backplate. Then remove both by twisting the magnet.

You're done!
Any questions? Ask us in the comments!