As the days get longer - and we long to be outside - it is important to remember that summertime is when burglary rates increase. In response police departments such as the Seattle PD are posting Summertime Security Tips for city residents.
"Summertime is definitely crime time, and the crime season usually starts on Memorial Day weekend. The regularity in the cycle goes like this -- crime rates bottom out during January and February; in March they start to increase, increasing regularly over April and May; with June being the month when the crime rate usually rises above the national average; and with August being the peak month," says Crime Expert Dr. Tom O'Connor.
Top 3 reasons for the increase in crime during the summer
1. School is out for summer.

Teenagers with more time on their hands are prone to getting into trouble. Boston Globe Criminal behavior Columnist, James Fox, recently wrote an article highlighting the dangers of teenagers with too much free time to get into trouble, noting that 9pm and midnight are peak hours for teen crime.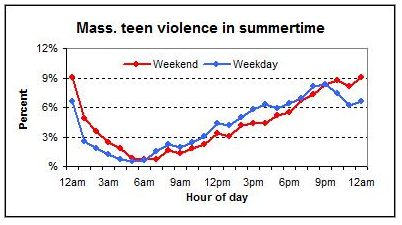 While you can't solve the increase in teen crime, you can protect yourself by ensuring you have prominently placed security decals and/or yard signs.
2. Summer makes us all want to relax a little.
Windows are left open, doors unlocked. The LAPD property crime detectives issued this statement on June 3rd; "We want to remind community members that taking precautions with your property, both in your house and your car, may prevent you from being the victim of a crime."
If you'd like to keep your windows open for a cool breeze in the summer, read last summer's Quick Tip on Leaving a Window Open.
3. Summer vacations and weekend escapes make homes easy pickings for burglars. Remember to:
Have your newspapers stopped or have a neighbor pick them up.
Get a friend to check on your home or apartment to make sure that there is no mail or package sitting by your front door.
Arm your SimpliSafe Alarm System
To all of our wonderful current and prospective customers: We wish you all a wonderful, fun and safe summer!