Despite our fond memories of winter from childhood, winter storms can be very dangerous. Between hazardous driving conditions and subzero conditions, it's better to be cautious and prepared than sorry during a storm. Once you have your preparedness kit ready, the next thing to do is make sure you know what to do if a storm hits. If you have a power outage, you may lose your heat and water, depending on your utility types. What you during this period will not only determine your comfort level, but the safety of you and your family. Learn what to do in a winter storm to stay safe, and you'll have no worries until it blows over.
1) Know When to Travel:
If there's a power outage, it's best to stay off the roads. Traffic lights and street lights may have been affected by the blackout, creating a treacherous driving environment. In addition, winter power outages often occur due to inclement weather. If there is snow or ice, it's best to keep off the roads. The roads may be too dangerous due to ice, downed trees, and other drivers. Pay attention to local announcements and advisories regarding driving conditions and make only necessary trips. You can follow local announcements using your hand crank radio in your preparedness kit, or by using a charged cell phone!
2) Food Safety:
Sometimes one of the biggest concerns from a blackout is food. Will you have enough to last the storm? Will the food in your refrigerator go bad in the interim? Fear not- you can manage your food and weather the storm. With your preparedness kit, you've already stocked your pantry with non-perishables that you can open without electricity! (Always handy to have a manual can opener, and not just an electronic one!)
Your main concern is likely to be the food in your refrigerator. During a power outage, open your refrigerator as infrequently as possible. This will keep the food in your refrigerator cold longer, and prolong its shelf life by up to four hours. Make sure to eat the food in your refrigerator first. Be sure to look for signs that the food as expired, including texture and smell. If your refrigerator, and the food inside, is above 40 degrees Fahrenheit, discard the food.
After your refrigerator, move on to your freezer. A half-full freezer can stay cold and save the food for up to 24 hours. A full freezer will stay cool up to 48 hours. Once you have eaten and discarded the food in your refrigerator, you can now eat the food in the freezer through this time frame.
Your pantry food should be your last food. This will last indefinitely, and can help you ensure that you won't run out of food during the duration of the power outage.
If you can, you can also preserve refrigerated and frozen food by packing it with ice in a cooler. You can also use a Styrofoam cooler for this purpose! As with your refrigerator and freezer, discard any items once they have reached a temperature above 40 degrees Fahrenheit.
3) Stay Warm:
If you lose heat, make sure to bundle up! Blankets, sweaters and sweatshirts are your best assets to combat the cold. Layers will help you stay warm. A hat, too, will help you keep your body heat in. If you have a fireplace in your home, use caution and proper fire safety techniques to light and maintain a fire. Only do so if you know your fireplace, and know that it's in proper working condition. Carbon monoxide poisoning can be a serious risk during a power outage while using devices such as a generator or coal burning stove for warmth. To make sure you and your family are not at risk, do not use such a device inside your home, nor in proximity to doors or windows. Make sure that you have battery-powered carbon monoxide detectors installed to protect you against carbon monoxide poisoning even when you lose power.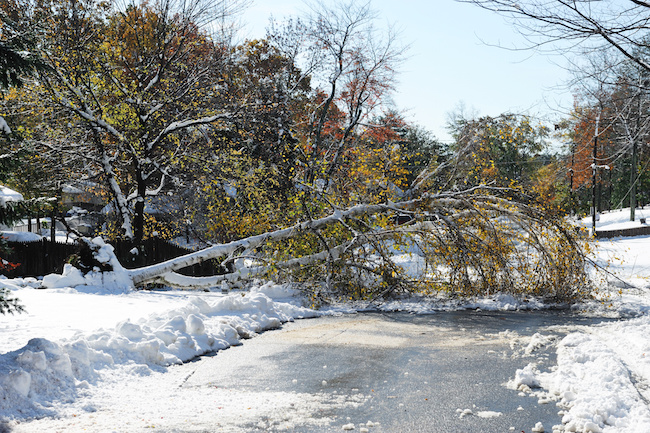 4) Water Safety:
If you have well water, you may not be able to flush your toilets or obtain water from your sink during a power outage. Even if you are able to get water from your tap, consider that the water may not be up to normal purification standards due to the power outage. Check with your local officials to see their recommendations regarding the treatment of your water. If needed, when possible, raising water to a rolling boil for one minute will kill off most bacteria.
5) What else?:
During a power outage, use your flashlights and resources diligently and conservatively. Try to use your flashlights when you most need them, rather than constantly. There's a definite impulse to have your flashlights on all the time. But think twice before doing so- these are a precious resource, and you won't want to be without them if an emergency were to occur.
When you lose power, unplug devices such as your computer, to prevent possible damage due to power surges when the power is ultimately restored.
Lastly, make sure to keep one light in the "on" position, so you'll know when the power outage ends! With these tips in mind, you'll survive whatever winter throws your way.