I bike everywhere, and I mean everywhere. To work in the morning, home from social engagements at night, up and down trails for fun on the weekends. The biking life comes with a lot of pros: I could leg-lift a bison, the air around my head stays clean, and I never have to deal with public transportation or shell out for gas. Others are catching on—bicycling in America has enjoyed a 10% increase in popularity since 2000. But there's one thing that keeps me up at night: bike thieves.
As biking gets more popular, bike thieves get more vicious:
Crunching these numbers made me think twice about my theft prevention strategy—one U-Lock and fervent wishing just might not be enough. So I saddled up and rode around Cambridge seeking advice from the experts. Here's what I found.
Best Bike Lock Tips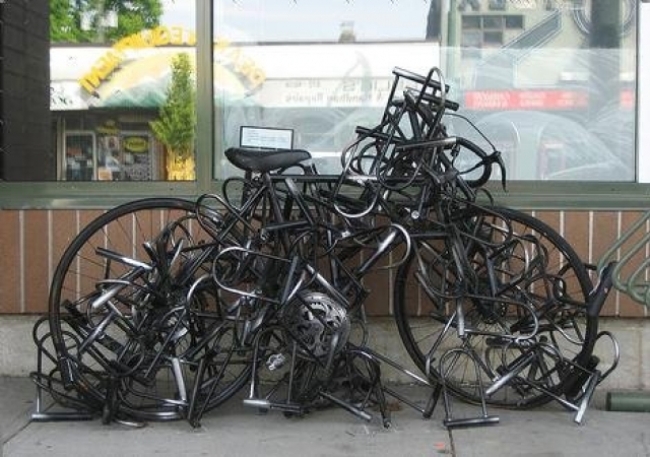 The first place I stopped was Hub Bicycle, a local repair shop owned and operated by Emily Thibodeau. Thibodeau is the real deal—a sign on the door warns customers that the shop is closed Sunday "for riding bikes." She knows firsthand that theft is a big problem: "Anecdotally, I probably talk to one person a week whose bike has been stolen," she tells me, frowning. And most of those bikes aren't recovered: "It's definitely a lot easier to lock your bike up well than it is to get it back if it gets stolen."
So what does Thibodeau recommend? For city bikers, "a U-lock at the very least—cables get cut all the time in this town," although suburban riders might be fine with just a cable. U-locks are bulky, strong, and very difficult to break, especially if there's not much room to leverage a crowbar. To that end, choose the size of your U-lock based on the size of your frame and how much of the bike you'd like to protect—just the frame, or the wheels too? You want the smallest one that will still fit around all those components.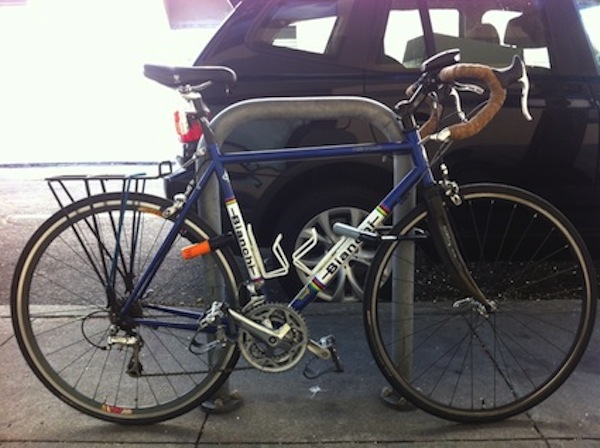 If you're really concerned, you can always double up: two locks are better than one, and a cable/U-lock combo combines strength with reach and can corral all of the most vulnerable parts of your bike. If you don't want to carry around two bike locks, you can always leave one fastened to your favorite bike rack, although it's best not to lock your bike in the same place every day. Thieves are good at pattern recognition.
Protecting The Rest Of Your Bike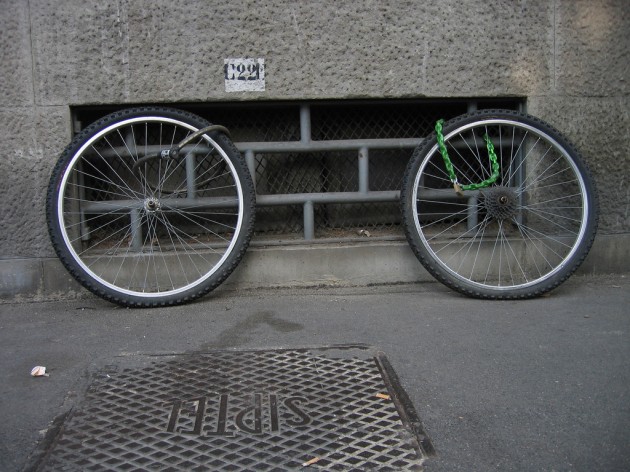 So your bike's skeleton is all set—but what about the bells and whistles? One in three bicyclists has had his or her light stolen, and bells, wheels and racks meet similar fates.
If you have quick-release wheels, Thibodeau says, your best option is replacement locking skewers—these make it impossible to pop your wheel off without a wrench, or, if you go for the more extreme options, a specific key ("those are only good if you're a person who's good at not losing things," cautions Thibodeau—if you can't find your key, you'll never be able to fix a flat again).
Lights are the most commonly stolen items, which is why so many are now removable—take them with you (they can even double as a flashlight!). Or invest in the Gotham Bicycle Light, an MIT-based behemoth that its inventors boast is "virtually impossible to break loose from the bike."
As for the smaller accessories, you'll want to make sure your racks are bolted down, your baskets are zip-tied, and your bells are screwed on tight.
The Killer Secret Behind Unstealable Bikes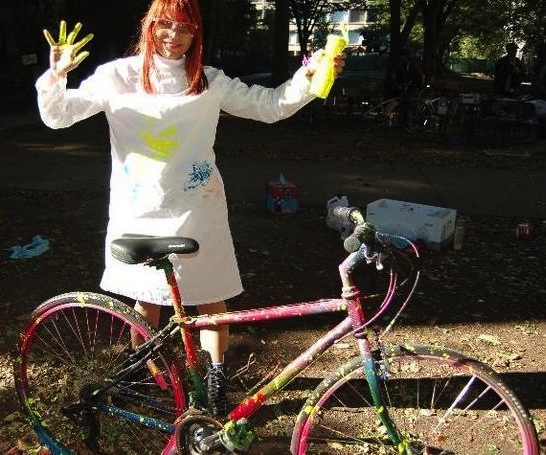 Even the most expensive gear is nothing without street smarts. Stay one step ahead of thieves by making your bike look unstealable. The crafty Crime Club at MIT used to hold workshops where they helped students spray paint their bikes strange colors, scrape off the brand name, and tape up the seats. Since so many bike thieves scrap their conquests and sell them for parts, making the parts appear low-value removes the incentive to steal, and keeps your bike safe and waiting for its real owner.
You Tried, But Your Bike Still Got Stolen—Now What?
So what happens if you slack off for a day (or just get really, really unlucky) and your bike's not where you left it? First of all, make a police report no matter what! "This is so important," says Thibodeau. "Even if your bike's not registered, if you've reported it missing and they happen to recover it, they'll get in contact with you."
According to bike law expert Bob Mionske, 48% of stolen bikes are recovered by law enforcement, but only 5% are returned to their owners because of this lack of communication.
More things to try: most bike thieves try to unload their hauls as quickly as possible, often in different cities than where they found them. Trawl Craigslist and eBay for bikes that sound like yours (be warned: criminals often make their item descriptions vague on purpose so that it's harder for victims to sniff out their bikes). Go around to the local pawn shops and see if you find anything.
Pre-Crime Prep You Need To Do Now
Make the process easier by keeping a file for each of your bikes containing its serial number, current photos, and receipts of purchase or repair (these will help you establish ownership if necessary). Register your bike via a national registration service (the National Bike Registry, for example), and make sure it's included on your home or renter's insurance.
And pro tip: if you end up needing help from the police, try to work with a cop who's also a cyclist. They tend to prioritize bike thefts higher than those who drive to work every day.
Any bike security tips we missed? Share in the comments!