Ready to take your home protection to the next level? Read on to learn about Smart Alerts, Secret Alerts, Remote Arm/Disarm, and more ways to make your life safer AND easier with the SimpliSafe App and Online Command.
You can control your SimpliSafe Base Station settings online when you subscribe to our no annual contract plan: 24/7 Total Monitoring Plan + Online Command. For just $24.99/month you have remote control of your security system from anywhere in the world. All you need is internet access!
Online Command gives you the power to:
arm/disarm your system
name sensors and PINs
add/remove sensors and change their settings
check the status of your alarm and all sensors at all times
and more!
Did you forget to set your alarm system?
That's not an issue anymore with online command

What sensor triggered that alarm?
With online command you can name your sensors. That way you can easily identify which one was triggered, is open or that you'd like to change settings for.
Ever wonder if someone is snooping around your private stuff?
Wonder no more with our new Secret Alerts! There's a setting for Entry and Motion Sensors called "No alarm—sms/email alert only." When sensors on this setting are triggered, you'll get a Secret Alert! letting you know about it, but your alarm system will remain quiet...no alarm is triggered.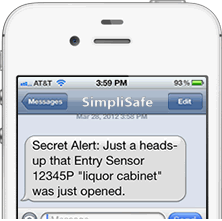 This is a great setting to use for protecting jewelry boxes, the closet in your master bedroom, file cabinets, or drawers holding sensitive or private materials. Parents will find it useful for protecting the liquor cabinet and ensuring they are aware of anyone accessing medicine cabinets where powerful and dangerous prescription drugs are often stored.
Want to give someone access to just a portion of your home for a short while?
On occasion you might want to give someone access to a portion of your home (a shed, entryway, or garage) without needing to disable your entire alarm system, giving them unnecessary access to the rest of your home. You may want to do so for just a small window of time.
Do it with Online Command!
You'll have the ability to change any sensor setting remotely from anywhere that you have an internet connection. Just select the Entry Sensor or Motion Sensor you'd like to disarm and change its setting to "No alarm—sms/email alert only." The sensor won't trigger an alarm, but you will get a Secret Alert! letting you know when your guest has arrived and triggered the sensor.