We love DIY ingenuity over here at SimpliSafe — that's why we make it so easy to customize our security systems, from sensors to setup to smartphone notifications. So when one of our valued customers posted on our Facebook wall to let us know how he was able to rig a SimpliSafe system to catch some repeat burglars, we couldn't wait to share his savvy solution with the rest of you! Check out how he was able to catch these uninvited guests...
The Mad Scientist Prepares His Lab
"After protecting my home with a VERY affordable system from SimpliSafe that proved without a doubt to be reliable with awesome customer service, I was faced with a real challenge! I needed to secure a house under construction that had been burglarized several times, leading to a huge loss in tools, material & damage to the house. With the house not occupied, it was a prime target, so it was time to CATCH our return guests with the aid of the SimpliSafe2 platform and my Mad Scientist skills."
STEP ONE - Get the Goods
"Purchase SimpliSafe. Go with all motion sensors and no entry sensors so to conceal the system. Hide keypad in a closet and use remote to enter/exit. (Optional= inside keypad there is a round black piezo beeper that can be silenced with a small dab of silicone in the hole — BUT I'm pretty sure that part will void the keypad warranty so USE DISCRETION!). The system is very easy to move and/or reconfigure so if you're looking for something less permanent than a hardwired system, this is the ticket! AND no telephone line needed!"
STEP TWO - The Sneaky Setup
"Place motion sensors inconspicuously to look over (or under) important areas. I devised a sensor camouflage that worked well to blend into the construction site. The SONIC cup sensor cover can be made with a clean Sonic cup, a razor, and newspaper. Cut hole, activate sensor, support with newspaper inside cup, shorten straw to allow room for the paper. If placed low, about knee level, install sensor upside down so target beam will come out and go upward."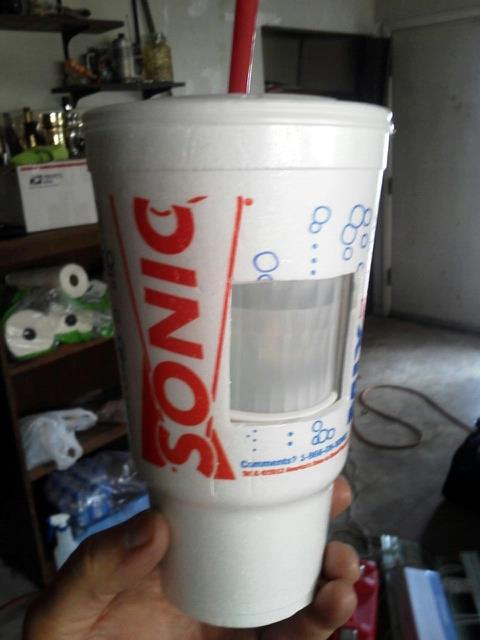 "Home Security With A Side of Fries"
STEP THREE - Trap The Thieves!
"Activate system and make sure everything is working properly, then use the remote key chain & your computer to configure the system to have NO blinking blue light & NO Siren, for a silent alarm . . ." and voila! The burglars snuck in for what they thought would be an easy score — and never knew what hit them. "Thanks to SimpliSafe, two more convicted felons are back in prison, and no more sleepless nights for me!"
Have you found a new way to use your SimpliSafe? Let us know in the comments!