Today I'm going to introduce you to one of my personal favorite features: Instant Smart Alerts.
Instant Smart Alerts are an insanely powerful tool available to Interactive Alarm Monitoring subscribers. Here's why they are so valuable: you - and anyone else you want - can get notifications by text message or email, whenever there is an alarm, activity, or even just an error. You get as much information as you want about what's happening at home—as soon as it happens.
Use Instant Alerts to Stay in Command. Here's How:
Because Instant Smart Alerts are so customizable, you can use them in a ton of ways. For example, I definitely want to know if my alarm is triggered, so I turn on alerts for all alarms. And my Secret Alerts tell me whenever someone goes into my closet.
I turn on Activity Alerts too, since I like to know when my kids get home from school: and since they each have their own PIN, I know exactly who is coming in and out.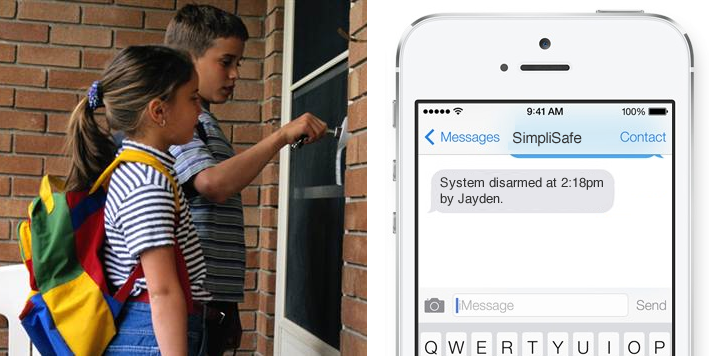 Want to know find out if there's any issue with any of your sensors? Just turn on Error Alerts!
Give Your Family the Power of Knowledge
Plus: you can send customized alerts by text or email to as many people as you want. I don't need my kids to receive a message anytime someone comes home...but I want to make sure they know not to come home if an entry sensor or fire alarm has been triggered. So I turn on alarm alerts for my kids, and turn off activity and error alerts.
How to Customize Your Alerts
If you don't have Interactive Monitoring: only folks with Interactive or Alert Alarm Monitoring have access to Instant Smart Alerts. But it's incredibly easy and affordable to sign up for Interactive today. Just visit simplisafe.com/activate - in minutes you'll have greater protection AND access to Secret Alerts.
If you have Interactive or Alert Monitoring:
Visit SimpliSafe.com and log into your account. On the left hand-side of the page, you'll see a list of tabs - Dashboard, Event Logs, etc. - you want to click Monitoring.
See where it says Instant Smart Alerts (the box at the bottom)? Here's where you can customize your alerts.
When you want someone (including yourself) to receive Text Message Alerts:
Under SMS Text Alerts, write their name and phone number in the appropriate boxes, and select their carrier from the drop down menu.
Customize this person's alerts: check or uncheck the boxes next to "Alarm," "Activity," and "Error."
Press "Add" - and then check your phone for a confirmation code.
Add and customize your next contact.
When you want someone (including yourself) to receive Email Alerts:
Under "Email Alerts," enter their name and email address in the appropriate boxes.
Customize: check or uncheck the "Alarm," "Activity," and "Error" boxes.
Press "Add" - and then check your email for our confirmation email.
Add and customize your next contact.
It's that easy to set up your fully customized Instant Smart Alerts for you and your whole circle.
We all know that knowledge = power. With Instant Smart Alerts, get ready to feel a lot more powerful.