Do you know your neighbors? Do you recognize them on the street, or know their names? Do you know when they're going on a trip, or what's going on with their families? Sadly, today, less than a third of people know their neighbors. This number is down from a 2010 study, which indicated that 43% of Americans knew their neighbors, though only a third of those people knew their names. It seems as though the increase of technology pulls us apart and that we do not value the same sense of community we once did. But neighbors still hold great value. Getting to know them can make your home and community safer, more welcoming and enjoyable, and create a sense of camaraderie. Summer is the perfect time to meet your neighbors. Whether they're talking a walk around the block, outside gardening, or sitting on their front porch, summer is the perfect time to catch your neighbors out and about and say hello. Greeting them while they're out is a perfect way to introduce yourself, without being invasive, or bothering them while they're busy. But what comes after the hello? How do you get to know your neighbors better?
1) Neighborhood Parties
The Block Party is a summer staple. It gets together new and old neighbors right on the street. The best part? It's easy to organize! Everyone brings food, you play music, and put out some games. People will mingle and socialize, forming new bonds that will last once the music stops.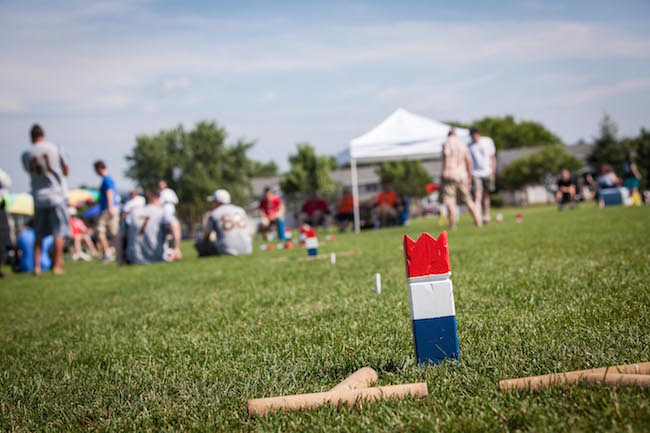 Chat up a few neighbors and see if they're interested, and when you have a few people committed, find a good weekend where most people in the neighborhood will be likely to be there. You may want to avoid holiday weekends. Consider the type of neighborhood and its needs when planning the event. Do many children live in your neighborhood? You may want to include games and block off the street from traffic (contact your city before doing so). If you live in an area with mostly adults, you may want to focus on food and music! Try to find a music everyone will like!
Maybe a large group of people isn't your thing. Instead, try a dinner party. Invite the neighbors on either side of you (and if you're up for a bigger affair, the neighbors on either side of them!). Plan out a menu and set the date. Food is a great way to warm people up to one another, and the dinner party will be intimate enough that it can foster conversation. Over dinner, ask questions about their lives and share about your own. When your neighbors mention their upcoming vacation, offer to pick up their mail for them, or take flyers off their door.
2) Community Projects
One of the best ways to get the community together and meet your neighbors is to create a project that will benefit all. Community gardens are a popular way to do this. This shared space allows your neighborhood to feel like they have ownership it in- that they can benefit from it and help grow it (literally in terms of a garden). Joint ventures like a community garden create a safe space that unites the community under a common goal. While contributing to the beautification of the neighborhood, it also creates a sense of camaraderie. When the neighborhood is working on something together, you know you can trust one another. The community will grow tighter, closer and safer.
If you don't have a space for a community garden, try starting a Little Free Library. These are small boxes you can place on your front lawn that encourage people to take and leave books. They're easy to setup and are a simple way of bringing your community together. They're also great for striking up conversations with your neighbors as they browse the library!
3) Embrace the Digital Age
If you are an introvert, meeting your neighbors in person might be a harrowing task. Good news. The internet is here to help you overcome that fear, and bring neighbors together like they've never been before. Apps like the Neighborhood Watch app let you keep your community safe. You can report suspicious activity right in the app. Similarly, in the Neighborhood Crime Watch App you can take photos and alert authorities. However, make sure that if there's ever an emergency to immediately call 911 rather than using an app.
New social networks like NextDoor are exclusively local networks that require you to verify your home address before joining in your neighborhood. This takes it beyond just reporting suspicious activity (though people still do that). Nextdoor allows neighbors to share recommendations, organize local events, and get to know each other before ever meeting in person.
Knowing your neighbors is a huge part of keeping your home safe. A safe community keeps your home safe and deters criminals from your area as a whole. It's helpful to keep an extra pair of eyes on your home while you're away, and know that you have friends surrounding you. Spearheading activities, whether parties or projects, brings your neighborhood together in a positive way that will build relationships and create a strong and safe community.