Winter is well on its way - can you smell the snow already? As you're dusting off your ski boots and pulling out your mittens, there are a few more things you can do to prepare before the cold settles in. The last thing you want to be worried about as you're putting up your tree or getting the family together is the security of your home. Run through our quick checklist to make sure you're fully prepared.
Protecting Your Home From Winter Weather:
The first thing you should do when preparing for winter is have your furnace checked. Hire a professional to come in and make sure everything is up to snuff. They will also check for carbon monoxide leaks. While that's happening, make sure you also test your Carbon Monoxide Detector.
Now that your heat is turned on, you may want to find ways to save on that bill. A great tip is to turn any ceiling fans into reverse on a low speed. This will force warm air down, so you're not losing it to high ceilings. It's also good to take a look at your doors and windows. Check the caulking for cracks or gaps. You'll want to fill these so that they aren't letting out warm air (or letting in water). It's also a good idea to check the caulking around your bathtub and shower.
You will also want to clean out your gutters from fallen leaves. Backed up gutters can lead to leaks and damages from freezes. Since you're already outside, it's a good chance to cut back any tree branches from the house and take a look at your roof. Make sure there aren't broken shingles, or spots that look damaged. You'll want to keep an eye on your roof as the snow piles up too. A standard roof can take up to 20 pounds of snow per square foot. That's about four feet of fresh snow.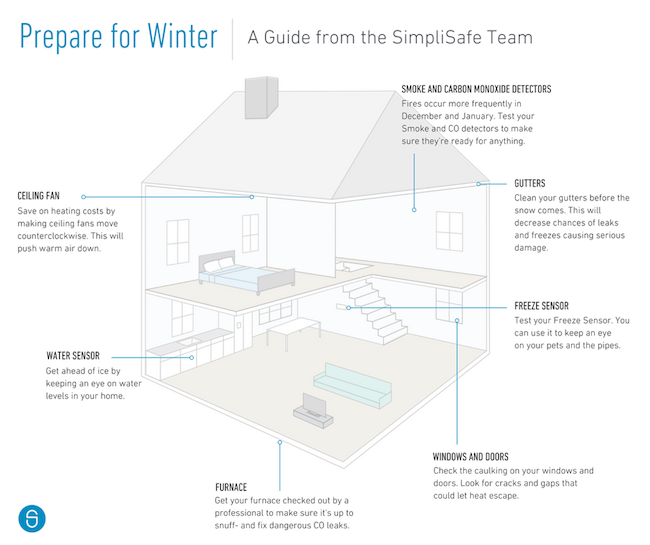 Testing Your SimpliSafe:
It's important to test your SimpliSafe system at least once per month. As we're at the start of December, consider this a friendly reminder! Since we're doing some winter preparations, here are the things you want to pay close attention to. Your hazard sensors will become your best friends in the winter, because nature becomes the biggest threat. Winter is prime time for home fires, with December and January having more fires than any other time of year. Test your Smoke Detectors and Carbon Monoxide detectors. Make sure you have a Smoke Detector near any Christmas lights that you have up. Test your Freeze and Water Sensors. Make sure you are receiving notifications and have a plan to deal with any emergencies. Remember, apart from the Freeze Sensor, SimpliSafe sensors should not be kept in areas that drop below 45 degrees. If you have sensors in the garage, it might be a good idea to move them into home for the season. Finally, run a full test of your system. If you need help with this, you can always reach out to us for help!
Always be Prepared:
Hopefully we won't have any major storms or outages this year, but it's always best to have everything you need on hand in case of an emergency. You don't want to be running to the store at the last minute and fighting for bottles of water. Here's a list of things it's a good idea to stock up on:
Ice Melt
Shovel
Flashlights and Batteries
Candles and matches
Gas Generator with Fuel
Water (a good rule of thumb is 1 gallon per person, per day)
Radio
First Aid Kit
Blankets
Winter Storm Activities for the kids